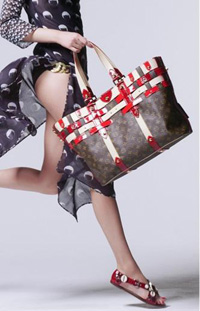 Louis Vuitton, the luxury retailer, closed its boutique in Hangzhou, the capital of east China's Zhejiang Province, after the local industry and commerce authority seized most of its products, the local newspaper Today Morning Express reports.
The boutique, located in the high-end Hangzhou Tower department store, was found with its display window cleaned out, curtains drawn and door logos carefully covered with white paper.
"Last Friday morning, officers with the local industry and commerce authority entered the shop for an apparent spot check. Then salespeople began politely asking customers to leave and reported the incident to the head office. Later, the officers seized nearly all of the bags in the shop, which had been closed during the seizure, according to an anonymous newspaper source.
An official with the provincial Administration of Industry and Commerce says the administration found that "some of the boutique's products did not measure up to standards" during a spot quality check in May.
According to regulations, Louis Vuitton can dispute charges within 15 days of the issuance of the official document and request a re-inspection. However, the company did not take action before the June 6th deadline on which day the administration seized the disqualified products.
He didn't reveal any further information, saying the details would be released after the case was concluded.
The provincial Administration of Industry and Commerce did not order the closure of the boutique, which made the decision itself, the official stressed.
Zhao Xiaojing, the director of communications for Louis Vuitton China, says the problem was caused by lack of one small piece of sample leather, which is usually attached to the product as a material mark in China.
"All our leather accessories are produced in France and the mark is not required by regulations there," Zhao said.
An internal source explained the boutique had to close because luxury products are generally made one-year in advance and then allocated to shops around the world, based on a reasonable need. Thus it is not possible to transfer stock from other cities or to get supplies from the source in a short time.