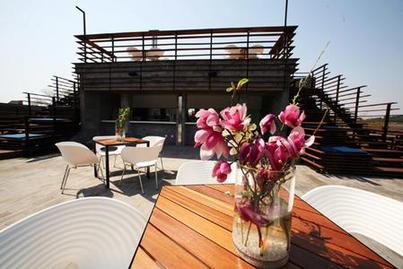 It's no secret that Beijing has Bund envy. No venue in the capital could really compare with the stunning, iconic views from places like Three on the Bund. Until now, that is.
The opening of the Yin Bar on top of The Emperor Hotel delivers cocktail party colonial chic that even Face can't muster. The view-taking in the Forbidden City, the dagoba in Beihai Park, Jingshan Hill and even the lights of Tiananmen-isn't hype, it's for real. The terrace is multileveled, with sets of MC Escher stairs leading to little alcoves and spacious patios outfitted with tables and chaise lounges.
And yes, there is a Jacuzzi up there for all the bikini babies. Both times we've been the service has been attentive, and prices are what you'd pay at a hotel bar in the West (57 yuan Qingdaos, 67 yuan cocktails).
With government leaders living in the area, you're never going to get wild late-night bacchanalians, but with an imperial view of the heart of Beijing, Yin is a strong contender for bar of the summer.
Yin Bar
Tel: 6526-5566
Add: Emperor Hotel, No.33 Qihelou Street