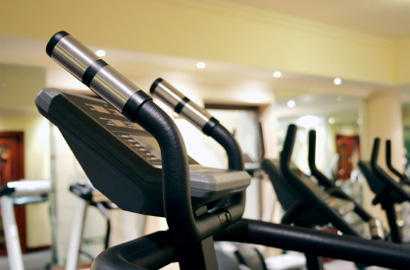 There are lots of aspects of Shanghai which necessitate going to the gym. The combination of one too many dumplings and far too many events photos is never going to be pretty unless you go for a workout every now and again. So SmartShanghai went to check out a few gyms (I was only checking out the equipment, I promise) to see if the city has as much on offer to help us burn calories as it does at helping us to consume them:
Fitness First
For now, the "world's largest health club operator" is open in Shanghai and excellently located in the basement of Plaza 66. If you're looking for well-equipped, this is the place for you; they have a member's lounge and juice bar, steam room, sauna, a cardio theatre, as well as -- slightly randomly -- the opportunity to rent DVDs and VCDs to take home after a workout. The main downside is that Fitness First is closing, and its closing was the impetus to write this article in the first place.
Alexander Club
Alexander Club calls itself the "the largest club chain in South Asia." Presumably they mean health clubs, or else Babyfacewould probably have a serious bone to pick. They now have two branches in Shanghai -- the original being located in Xintiandi. They are a more class-based health club than some, with an impressive array of classes ranging from Pilates and meditation to Spinning and Ashtanga. Their reputation has been tarnished recently due to financial problems with the club in its original location of Taiwan, and some argue that its 6000rmb annual membership fee is too high. But if you're looking for an exclusive gym with an excellent location, then this should be considered as an option. Alexander Club founder Candy Tang says that to achieve success "you have to dance to the rhythm of society's heartbeat." If that's too slow, too fast, or just too ridiculously obscure for you, you could always just dance to the rhythm of one of the many dance classes on offer.