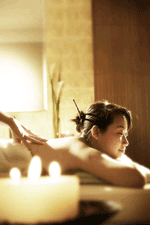 We entered the sleek interior of Yuan Spa's reception area and felt imbued with an earthen feel. You can change in the locker room which provides access to the spa's other facilities (pool, saunas and so forth) or proceed directly to your treatment room if you prefer more privacy.
We slipped into the cushy cotton robe and padded across the hall, through a four-cornered waterfall corridor and on into our spa room, a chic urban space with a clean minimalist decor and bright yet subdued earth tones. As our feet soaked in the warm water, the therapist asked us to choose our balm for the evening by way of a small smell test-the nose knows. We chose the detox balm, then we sipped on a sweet herbal tea as the therapist gave us a short foot bath, then proceeded to gently tap the meridien lines of our legs with tiny jade mallets to help improve our energy flow. Next it was on to the body scrub, an intricate process of first pumicing the skin with the balm and water, then following up with a course scrub. After rinsing away the scrub, we were ready to move on to the next step-a hot stone and essential oils massage.
The therapist placed heated basalt stones on key points along our body then proceeded to use both oil and stone to ease away our tension as we melted into the bed contentedly. The final treat was a soft facial-cleanse, scrub, mask, moisturize. After a bit more tea, we felt fully refreshed and at ease, ready to hit the town and let everyone admire our glowing skin.
Yuan Spa
Add: 1/F, Hyatt on the Bund, 199 Huangpu Lu
Tel: 6393-1234
Cost: 2,106 yuan