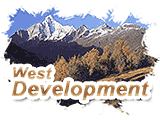 The opening of China's west, coinciding with the country's imminent entry into the World Trade Organization (WTO), has been eagerly anticipated by those who regard both events as important to China's economic and social development and an opportunity for China to stake its position as a world power.

Forum:

share your article, paper and opinion with us.

 

Graduates offered cash incentive to 'Go West'
2009-01-08
College graduates who take jobs in central or western China will be entitled to a full refund of their tuition fees, the State Council said yesterday.


 


   Related Links