Touring for fun and profit
Updated: 2011-08-07 10:47
By Tang Zhe (China Daily)
| | | | | | | | | | | |
| --- | --- | --- | --- | --- | --- | --- | --- | --- | --- | --- |
|   | | Comments() | | Print | | Mail | | Large Medium  Small | 分享按钮 | 0 |
International teams have set their sights on the lucrative China market during the offseason and are reaping the benefits, but is it good for the local game? Tang Zhe reports.
The rapid development of the Chinese economy and a huge fan base have made China one of the most profitable markets for European clubs, which many of which poured into the country for tours during the summer.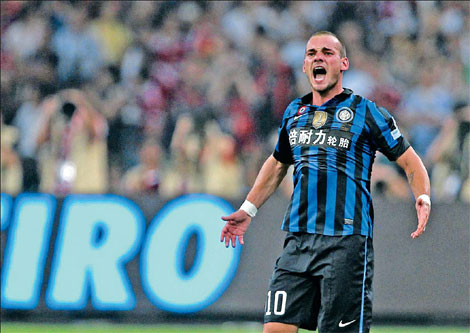 Inter Milan's Dutch midfield star Wesley Sneijder celebrates his goal against AC Milan during their Italian Super Cup match in the Bird's Nest, the National Stadium, in Beijing on Saturday. AC Milan came back from a goal down to beat Inter and lifted the cup. [Cui Meng / China Daily]
From mid-July to August, five European clubs, including Premier League powerhouses Liverpool and Arsenal, La Liga giant Real Madrid, and Italian duo AC Milan and Inter Milan, visited China, and were impressed by the potential of the market.
"In China and Malaysia, we are starting to become really popular, so that is a positive sign. There is a big potential fan base here, and we have had a good experience as a team together," Arsenal manager Arsene Wenger said after his squad was held to a 1-1 draw against Chinese Super League (CSL) club Hangzhou Greentown on July 16. The squad had visited Malaysia before heading for China.
"Although we couldn't seal a victory (in China), we witnessed how much Arsenal are loved here in Asia and how much the Premier League has penetrated here. It's a successful visit for us," Wenger said.
Liverpool made its debut in China with a 4-3 victory against local second-tier team Guangzhou Sunray Cave on July 14.
Unlike the British clubs, Real Madrid and AC Milan, who have visited China several times in the past few years, have more on their schedule than just friendlies.
During Real's first stop in Guangzhou, chairman Florentino Perez, together with Guangzhou Evergrande chairman Xu Jiayin, announced the teams would open what they hope will become the largest soccer school in Asia next year. They are also planning for other partnerships, including player exchanges, overseas market development and regular friendlies.
"We hold the belief that soccer should start from the youth, thus we have joined hands with Mr Xu to set up this school," Perez said. "Real Madrid will provide Guangzhou with as much support as we can, and I believe our cooperation will become deeper and closer in the long run."
The Italians are no less ambitious in expanding into the Asia-Pacific market. AC Milan already has some staff of its youth development sector based in China.
"The overseas youth program is very important for us, and I know some of our colleagues have started to work in China," said AC Milan coach Massimiliano Allegri. "We will pay more attention to the development of the Asia-Pacific market, and China is part of our plan."
Though the arrival of the Europeans has been warmly welcomed by fans, there are some who question the significance of the commercial games while the level of Chinese domestic soccer lags far behind that of Europe.
"In my opinion, it is unnecessary to hold commercial matches between teams like Real Madrid and Chinese clubs," Liu Jianhong, a soccer commentator from China Central Television, said after watching Real Madrid thump Guangzhou Evergrande 7-1 on Wednesday at Guangzhou Tianhe Stadium.
"We have already had so many matches like this. If the European teams play the games seriously, the Chinese sides will be routed. But if they (the Europeans) don't play hard, it would be quite a disappointment for fans who bought tickets to watch the game," he said.
In addition, the competitiveness of the friendly was influenced by the fact it came during the Chinese league season and Guangzhou players complained they were too tired to keep their form with two league games and one friendly within one week.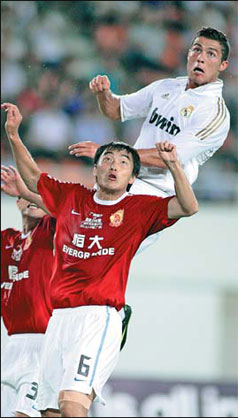 Real Madrid's Cristiano Ronaldo (right) heads the ball during the preseason friendly soccer match against Guangzhou Evergrande at the Tianhe Stadium in Guanzhou on Wednesday. Real Madrid won the match 7-1. [Agence France-Presse]
"This game is so close to the previous one that we were not playing the game, but fighting our physical condition," said Feng Xiaoting, who played in the match against Beijing Guo'an on Monday and played Qingdao Zhongneng on Saturday.
"This is just a commercial match, and the league games are more important for us," he said.
Tianjin Teda manager Arie Haan has the same concern.
"I think maybe they (Real Madrid) can play another team, not us, because we play so many games this year, and it's very difficult," Haan said in March, shortly after being informed his team would play Real Madrid on Saturday. Real won the game 6-0.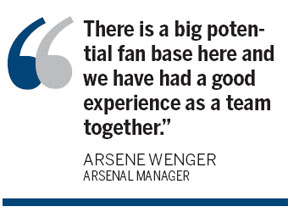 "There is AFC Champions League, the Super League, and at the end the CFA Cup (for us). We play a lot more games than last season, and should be careful about what to do with the team," he said.
Despite the concerns about burn-out, most Chinese fans embrace the idea of watching their international idols at home.
"It's hard for me to watch Real Madrid's game in Europe as it costs more money and time, and I'm really happy to watch Cristiano Ronaldo and Kaka playing (here)," a Cantonese fan said after Wednesday's game between Guangzhou and Real Madrid which the visitor won 7-1.
"Of course, some teams just come to China for the money and they don't play hard, but Real Madrid performed well today, and I enjoyed the game very much - although Guangzhou lost 7-1," he said.