Xi inspects PLA garrison in Hong Kong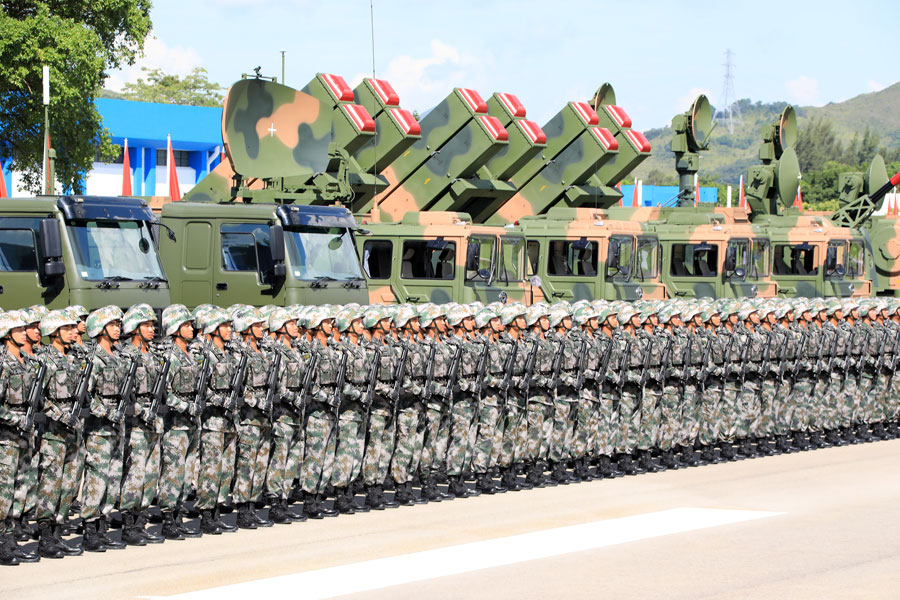 Soldiers of Chinese People's Liberation Army (PLA) Garrison in the Hong Kong Special Administrative Region are seen at Shek Kong barracks in Hong Kong, June 30, 2017.[Photo/Xinhua]
HONG KONG -- President Xi Jinping on Friday inspected the Chinese People's Liberation Army (PLA) Garrison in the Hong Kong Special Administrative Region (HKSAR), ordering the troops to "firmly safeguard Hong Kong's prosperity and stability."
Xi, also general secretary of the Central Committee of the Communist Party of China (CPC) and chairman of the Central Military Commission, reviewed the troops at Shek Kong barracks in the company of Tan Benhong, commander of the PLA Garrison in the HKSAR.
Riding in an open-top camouflage jeep, Xi repeated praises of "Salute to you, comrades!" and "Comrades, thanks for your hard work!" as he rode by each of the 20 troop formations.
The troops responded in unison; "Hail to you, Chairman!" "Serve the people!"
Altogether, over 3,100 officers and soldiers took part in Friday's review.
More than 100 pieces of military equipment, including air defense missiles, wheeled armored vehicles and military helicopters, were arrayed behind the troops.
About 4,000 flag-waving spectators from all walks of life in Hong Kong were also present during the review. Xi ordered the troops to firmly implement the principle of "one country, two systems," the Basic Law of the HKSAR and the HKSAR Garrison Law of the People's Republic of China.
The troops must resolutely protect national sovereignty, security and development interests, and firmly safeguard Hong Kong's prosperity and stability, he said.