Brenda Lee, vice-president of Coca Cola China, insists companies could commercially benefit by developing green solutions.
Speaking during a panel debate on Opportunity in Green Development and New Businesses Leaders, she said the soft drinks giant had made major savings in China by implementing environmentally-friendly measures.
Related readings:


 Special: 2010 ANN Annual Meeting & Asia Forum


 2010 ANN Annual Meeting & Asia Forum held in BJ


 Climate issue in focus as ANN meeting convenes


 ANN chairman: More dialogue needed with Western editors

Over the past five years, the company has cut its water utilization and energy consumption, both by 35 per cent, in China. Its aim is to become water neutral by 2020, putting as much back into natural water systems as it takes out.
"By using new technology and more efficient production methods, we have become more efficient and more productive in our processes, " she said.
"This translates into money and major savings in business operating costs."
Lee was engaged in discussion with Christian Klick, vice-president, corporate office of Star Alliance, the airline network association; Anthony Clymo, director of environmental health and safety, Asia-Pacific, of German chemical conglomerate BASF; Joe-Tao Zhou, China president of Eaton Corporation, the Shanghai-based power management company; as well as moderator Felix Soh, digital media editor of Singapore Press Holdings.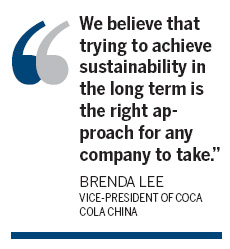 Lee, however, said Coca Cola would have embarked on this strategy even if there were no cost savings involved.
"This is the way forward. It is the right thing to do, even without any business benefits. We believe that trying to achieve sustainability in the long term is the right approach for any company to take," she said.
Klick at Star Alliance said the airline industry had a major contribution to make in reducing harmful carbon emissions.
He said the aim of the airline industry was for there to be no further growth in its emissions balance from 2020 onwards. The target was then to ensure that by 2050, emissions were 50 percent of the level of 2005.
He said China was a model example of how this could be achieved with a properly integrated aviation transport system with modern energy efficient airports and better ground handling systems, meaning fewer delays which often contribute to wasting fuel.
"China's airlines also invest in modern aircraft, which use dramatically less fuel. These are being used in conjunction modern airport facilities and a fully integrated air traffic control operation," he said.
Klick said this contrasted to Europe, where aircraft had to fly 15 per cent longer on journeys because of detours necessitated by an antiquated air traffic control system that failed to link up across national borders.

"In Europe we have been talking for 20 years about a 'Single European Sky' but so far nothing has happened. If we don't succeed in this area, then all the other areas we are investing in don't make sense," he said.
Soh from Singapore Press Holdings said one of the problems the corporate world had was getting across to the public through the media what they were doing to help arrest climate change.
"Whenever you come across petrochemical companies you have a negative perception. These companies should do more to educate people about what they are doing. Public perception is very important."
Clymo from BASF agreed, saying it was imperative that industry got its messages across.
"It is very important that industry works with the media and the government so people are aware of environmental issues in their daily lives," he said.
Zhou of Eaton Corporation said focusing business strategy toward being more environmentally friendly was increasingly seen as being a good business model.
"It is obviously good business if investment in innovation cuts down your fuel consumption."
He said it was also important for business to recognize new consumer attitudes.
"There is much more public consciousness about doing the right thing," he said.
Klick at the Star Alliance said there was still a danger of falling into the belief that the only way to save the planet would be to stop flying.
"This is the funny thing. It is a myth. I think we have a win-win situation. If we invest in new technology we can reduce energy consumption and also save money," he said.
And he added: "I believe airlines are an important part of globalization. There are things you can't do on the phone. You have to make personal contact to understand and trust the people you do business with."
Soh from Singapore Press Holdings said new energy technology has enormous commercial potential in China. The government has set a target for 20 percent of its energy to come from renewable sources by 2020.
"If China could lead the world in green technology, the business opportunities would be enormous," he said.