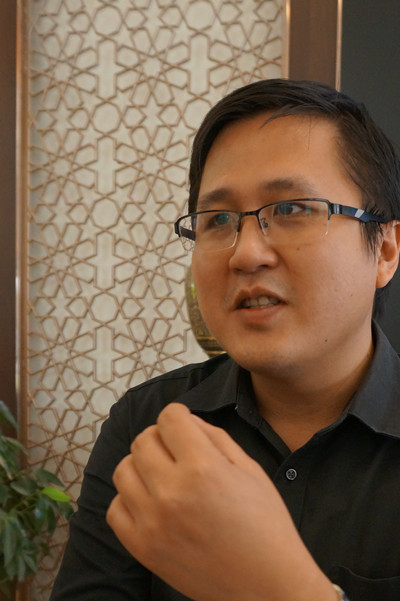 Ye Liwei [Photo by Liu Jing/chinadaily.com.cn]
Warren Buffett's legendary strategy of seeking undervalued assets is followed by many investors across the world, and for Ye Liwei, the new Special Economic Zone in Kashgar, in the Xinjiang Uygur autonomous region, is one of the best undiscovered and undervalued opportunities on the market.
Last year, the 34-year-old graduate quit a highly paid job in finance in Shenzhen, in the southern province of Guangdong, and moved west to join a real estate company in the new zone. The annual income is less than half what he used to earn, but Ye believes he made the right decision.
"When I graduated from Brock University in Canada in 2013, I returned with big ambitions only to find that Shenzhen's economy was already mature and there was very little room for newcomers," he said.
Ye's father moved to Shenzhen in 1984, and was one of the first entrepreneurs in the city, which grew from a small fishing village into an international metropolis in just 30 years, energized by China's reform and opening-up policy.
"I already missed out on the rise of Shenzhen. I don't want to miss out again, on Kashgar," Ye said.
His optimism is based on the city's proposed key role in China's Belt and Road Initiative, a massive economic framework proposed by President Xi Jinping in 2013 that is designed to connect economies across East and Central Asia and Europe.
Ye and his team have been faced with many challenges because the SEZ, approved by the central government in 2010, is still under development. One of the biggest challenges is counteracting the negative effects of terrorism. Last year, a deal fell through at the last minute when the client had second thoughts after an attack in Kunming, Yunnan province, in which members of the Uygur ethnic group were implicated.
"My client said he had to shelve the investment for further consideration, but we haven't made much progress since," Ye said. "The incident didn't even occur in Xinjiang, but it still wiped out our long-term efforts."
He said the region is demonized by outsiders. "In Shenzhen, I worried about thieves and robbers if I walked alone late at night, but here in Kashgar that never bothers me," he said.
Despite the setbacks, he's determined to stay in the city. "Right now, Kashgar is at the low end of the value chain, but in 10 years it will be another Shenzhen," he said.