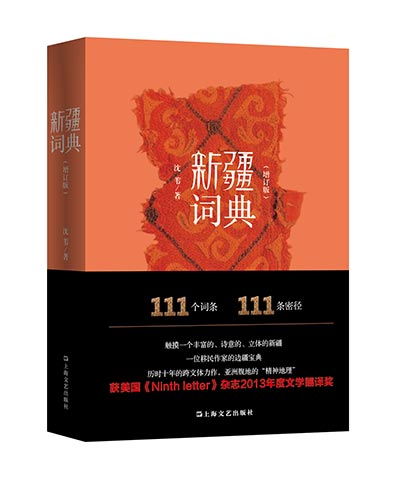 Shen Wei's new book introduces the lands and people of Xinjiang in a poetic way. [Photo provided to China Daily]
The Xinjiang Uygur autonomous region in Northwest China is vast and bears strong regional characteristics, but it's important for local and outside writers to "dig out the universal humanities" of the place. That's the message award-winning Chinese poet Shen Wei delivered when he recently spoke at the Shanghai Book Fair.
The 50-year-old was surprised to find the expanded edition of his collection of essays-A Dictionary of Xinjiang-sold out in months after it was published in October 2014, and that Shanghai Literature and Art Publishing House had to reprint more copies for this year's book fair in the city.
In A Dictionary, Shen uses 111 entries to represent his experience and understanding of the region's history, geography, plants, animals, landscapes, products, arts and literature.
Eleanor Goodman, an American poet and Sinologist, says Shen has genuinely represented the "spiritual geography" of innermost Asia. Her selected translation of the book also won her a literary award in 2013 by the US magazine Ninth Letter.
Shen has mostly written poems about Xinjiang for decades and is considered by local writers as a real voice of the land as if "his family has been living in this place for generations", says Yerkesy Hulmanbiek, a Kazak novelist and the vice-chairman of the Xinjiang Uygur Autonomous Region Writers Association.
Shen was born and grew up in Huzhou city in East China's Zhejiang province.
After graduating from an East China university at age 23, Shen-like many graduates then-went to China's remotest areas to pursue poetry and nature.
Shen was drawn to the beauty of Xinjiang.
He was also trying to escape a painful situation at home-conflicts with his father.