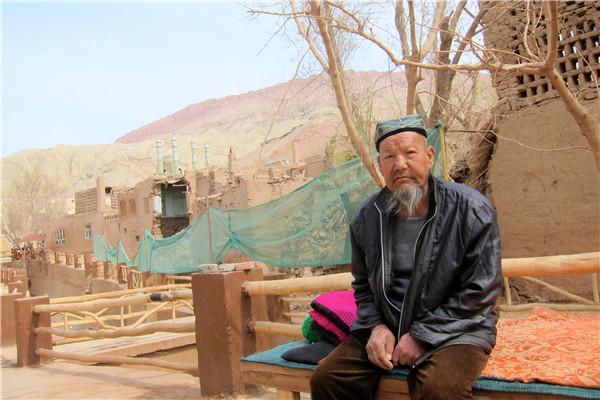 A Uygur man in Turpan. [Photo by Erik Nilsson/China Daily]
The revived link will not only send goods but also people, including tourists, both directions.
Yar's visitors can explore the remnants of the cave storage units in the "warehouse" district, as well as the central avenue and temple district that comprises two-thirds of the 680-hectare settlement.
The religious compound contains more than 80 structures, including seven small cave temples, the Grand Central Pagoda and the Grand Buddhist Temple built in the 4th Century-the site of our Easter egg hunt 700 years later.
Also largely intact are the southern gate, city walls and three-story courtyard houses. Cemeteries fringe the cities.
A plank platform overlooks the government complex, including courtyards, offices, cave rooms and passages, enclosed in a rectangular barricade.
Yar is 10 kilometers from Turpan prefecture's seat, as the camel trots.
Its proximity to downtown and larger size means it often overshadows Qocho's smaller and more distant ruins.
The 198-hectare city is 30 kilometers from Turpan and narrates a similar saga-with an almost identical conclusion.
Qocho was also charred in the same religious war after prospering from the 1st century BC through the 1400s.
It's perhaps ironic it was torched at the foot of the Flaming Mountain. Still, Buddhist, Nestorian and Manichean murals and scriptures survived.
Silk blankets were Qocho's medium of exchange in the 4th century, when they were traded for Chinese, Eastern Roman or Persian coins.