Unlocking the key to Kubuqi's success in eco-restoration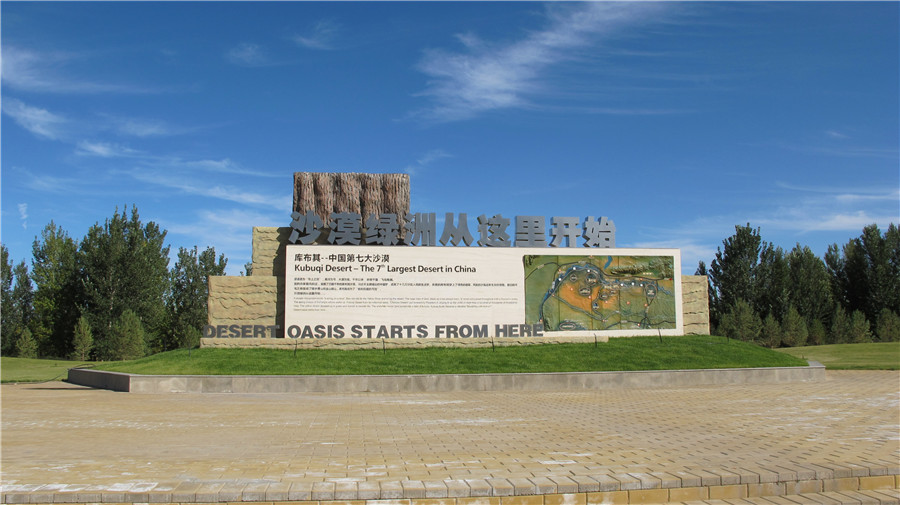 The outdoor scene of the Kubuqi Desert Ecological Science and Technology Center in the Inner Mongolia autonomous region, Sept 20, 2017. [Photo by Sun Wanming/chinadaily.com.cn]
The Kubuqi Desert, the once-barren land in the Ordos Plateau, is turning into an oasis - after three decades of efforts in desertification control.
The desert, the seventh largest in China, was the source of frequent sandstorms that also afflicted Beijing, 800 kilometers away.
But with the coordinated efforts of local government and enterprises, the participation of farmers and herdsmen, with focus on the role of science and technology, Kubuqi has witnessed remarkable progress in ecological restoration.
More than 6,250 square kilometers of the Kubuqi desert have been reclaimed in the last 30 years; rainfall in Kubuqi soared to 456 mm in 2016, compared with the less than 100 mm in 1988, and the number of sandstorms fell from 50 in 1988 to only one in 2016, according to a UNEP report.
Meanwhile, the greening efforts have also lifted about 102,000 people in the area out of poverty.
Ordos' Kubuqi model was widely lauded at the United Nations Convention to Combat Desertification (UNCCD), which just wrapped up in Ordos city earlier this month.
Its success in fighting desertification, experience in pioneering eco-restoration and developing eco-economies in desert conditions offers a solution for the world to tackle desertification.