Post-quake reconstruction efforts aim to beat winter deadline
By CUI JIA and MAO WEIHUA in Tashkurgan, Kashar prefecture, Xinjiang | China Daily | 2017-07-14 06:54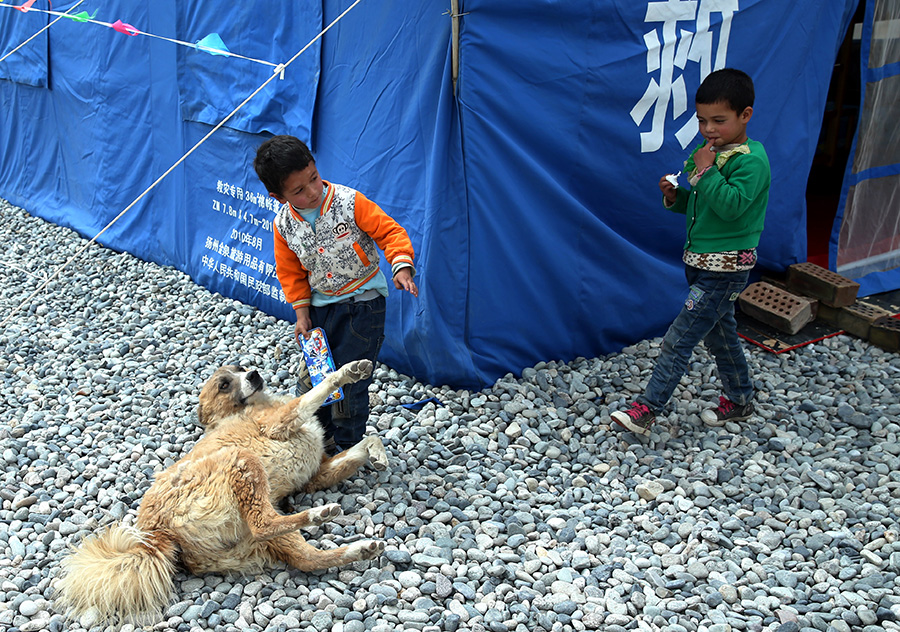 Youngsters have fun with their 'special therapist' in Quzgun. ZOU HONG/CHINA DAILY
Canvas classrooms thrill students
When a 5.5 magnitude earthquake struck at 5:58 am on May 11, about 700 children were sleeping in their dormitories at the primary school in Tashkurgan Tajik autonomous county, Kashar prefecture, Xinjiang Uygur autonomous region.
Principal Wu Jianfang, who was asleep in her apartment near the school, was terrified when she was woken by the quake. "My brain went blank for a few minutes. I knew I had to call the teacher on duty to check on the students, but my limbs just wouldn't move," she said.
By the time Wu arrived at the school 15 minutes after the quake, the children had been evacuated to the playground. The teachers told her that the dormitory building had shaken from side to side and many of the children had cried out for help.
What they didn't know at the time was that the epicenter of the tremblor was just 15 kilometers from the school, which is located in the county seat.
Wu and some of the teachers immediately conducted a headcount and examined the children for possible injuries, while another team began contacting the parents of the 1,500 students who live at home.
The teachers were uneasy for several hours, until it was confirmed that all the children were safe.
Schools and kindergartens were the first buildings to be inspected by experts after the quake. "The dormitory is fine but there are cracks down the walls of most of the classrooms in one of the teaching buildings," Wu said.
A disaster relief team helped the school to pitch 48 tents on the playground for use as temporary classrooms, and classes resumed the next day.
"Now that the summer vacation has begun, we have started a project to reinforce the damaged building so it can be put back to use when the new semester begins in September," Wu said.
"That could be bad news for the children-they find it much more fun to have lessons in tents."