Post-quake reconstruction efforts aim to beat winter deadline
By CUI JIA and MAO WEIHUA in Tashkurgan, Kashar prefecture, Xinjiang | China Daily | 2017-07-14 06:54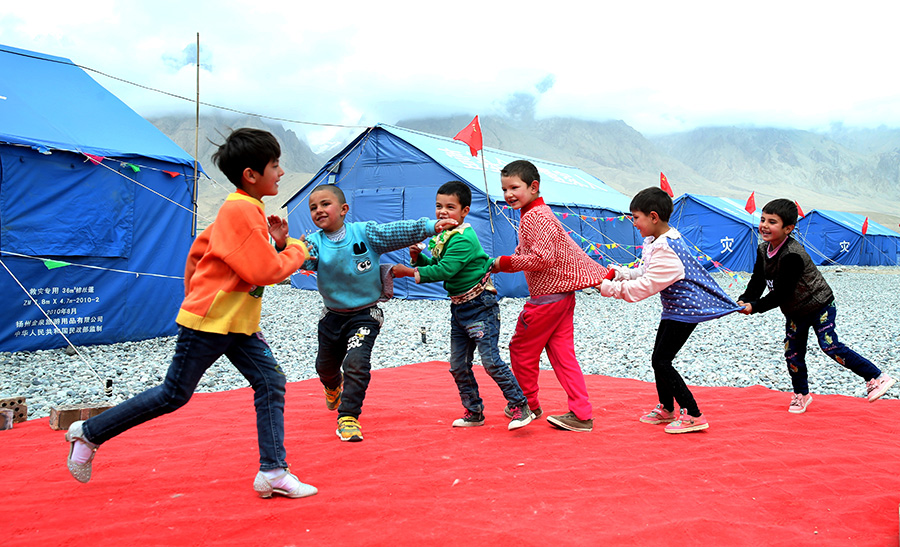 Children play outside tents which serve as classrooms in a temporary settlement in Quzgun village, Tashkurgan Tajik autonomous county, Xinjiang Uygur autonomous region. ZOU HONG/CHINA DAILY
Construction project
As a quake-prone region, Xinjiang introduced a project to construct earthquake-resistant houses in 2004, aiming to make all rural dwellings stronger and safer.
The project, funded by the central and regional governments, has significantly reduced casualty numbers during severe quakes, according to Hu Weihua, an expert with the Xinjiang Seismological Bureau.
In Tashkurgan, some villagers have already moved into the new dwellings, made of masonry and concrete, while others, such as Baygenmu, are on the waiting list.
When she rushed back to her house the morning after the quake, the first things Baygenmu dug from the rubble were quilts decorated with traditional Tajik embroidery.
"The embroidery is all done by hand. The quilts and embroidery techniques are passed down through the generations. They are very precious to Tajiks," said Baygenmu, who is using the quilts to decorate her tent and keep the family warm at night.
Even though relief workers have provided extra blankets, Baygenmu and the other displaced villagers were worried that they may have to spend the winter in unheated tents.
The winter deadline means construction work is in full swing. Everyone knows it is a battle against time, bad weather and the altitude, because it is impossible for the work to continue during the long, cold months on the Pamir Plateau.
The People's Liberation Army unit based in the county has been called in to help, deploying military trucks to transport bricks from Kashgar city, about 300 kilometers away, to different construction sites where uneven surfaces have been leveled and the stones have been removed.