Xi, Trump meet on ties, hot-spot issues on G20 sidelines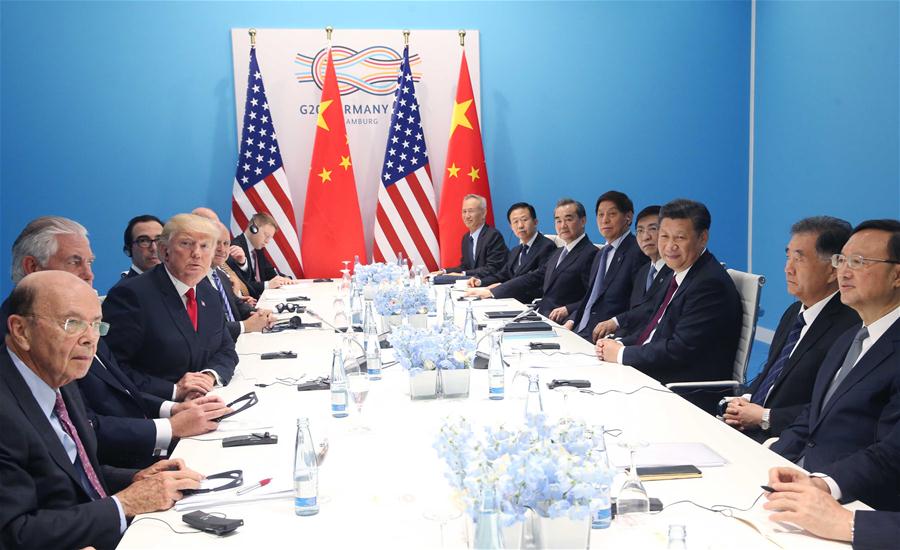 President Xi Jinping meets with his U.S. counterpart Donald Trump to discuss bilateral ties and global hot-spot issues on the sidelines of a Group of 20 (G20) summit, in Hamburg, Germany, July 8, 2017. [Photo/Xinhua]
On advancing military ties, Xi suggested that the two countries' defense ministers carry out an exchange of visits as soon as possible.
He also called for concerted efforts on such affairs as the China visit by the chairman of the U.S. Joint Chiefs of Staff in August, the first dialogue between the joint staffs of the two countries' militaries in November, and the Chinese navy's participation in the U.S.-led 2018 Pacific Rim military drill.
The two countries should respect each other's core interests and major concerns, and properly address differences and sensitive issues, said Xi.
For his part, Trump hailed the "wonderful relationship" with Xi and expressed confidence in the "success" in addressing common problems together with China.
The U.S. president noted that U.S.-China relations are developing well, with China being an important trade partner to the United States and playing an important role in international affairs.
Trump said his country is willing to expand dialogue and win-win cooperation with China in all relevant fields and maintain communication and coordination on major international and regional issues.
The pair also had an in-depth exchange of views regarding the Korean Peninsula nuclear issue.
Xi said China is firmly committed to denuclearizing the peninsula, safeguarding peace and stability on the peninsula, and solving the issue through dialogue and consultation.
China, Xi said, has repeatedly made clear its principled stance that while making necessary responses to the Democratic People's Republic of Korea's violations of UN Security Council resolutions, the international community should also increase efforts in promoting dialogue and controlling the situation.
He also reiterated to Trump that the Chinese side opposes the U.S. deployment of the Terminal High Altitude Area Defense system in South Korea.
The two leaders agreed to continue close communication and coordination on the Korean Peninsula nuclear issue.
They also exchanged views on boosting bilateral coordination and cooperation within the framework of the G20.
Trump was scheduled to pay a state visit to China later this year.
Xi and Trump set a constructive tone for the development of China-U.S. relations during their talks at the Mar-a-Lago resort in the U.S. state of Florida in April. The meeting was the first face-to-face communication between the two heads of state since the new U.S. administration took office.
In Florida, the two presidents spent more than seven hours in in-depth discussions, gained better understanding of each other, cemented mutual trust, reached consensus on many major issues, and built up a good working relationship.