Snap happy: Photographer marks 38 years at Tian'anmen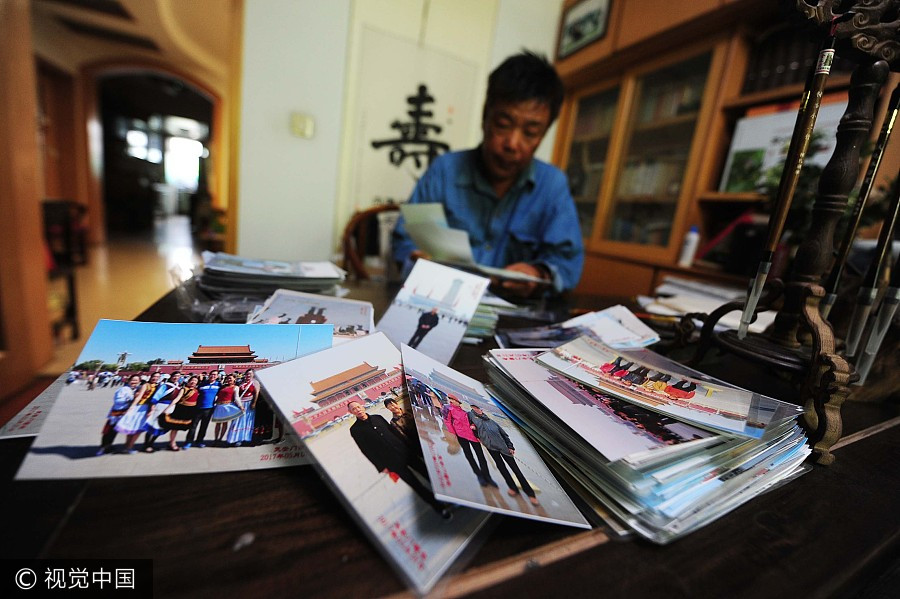 Gao Yuan looks at photos he's taken during the past 38 years in Beijing, May 23, 2017. [Photo/VCG]
It has been 38 years since Gao Yuan shot his first photo for tourists at Tian'anmen Square in Beijing. He was 17 years old at the time.
In these decades Gao has shot nearly 700,000 portraits at the square in China's capital city. He's also witnessed many changes, from black white to color photos, from formal wear to ripped jeans, from getting a photo a month after it was taken to getting it quickly done. If each of those pictures was six inches long and they were laid in a line on the ground, their total length would wrap around Tian'anmen Square's perimeter 40 times.
But for Gao, it's a pity that he still has nearly 1,000 pictures that were never claimed. Some of the people who posed for the shots had given him a wrong mailing addresses; others had to hustle for their tourist bus before getting the photographs back. Gao has been trying to get in touch with then. He even turned to Weibo, China's Twitter-like social media platform, for help.
"Some of them may not have another chance to come to the square, so my photo means a lot to them," Gao said in an interview with the Beijing News. He said he would always keep the pictures in the hope of finding their owners.