China to maintain friendly policies to Sri Lanka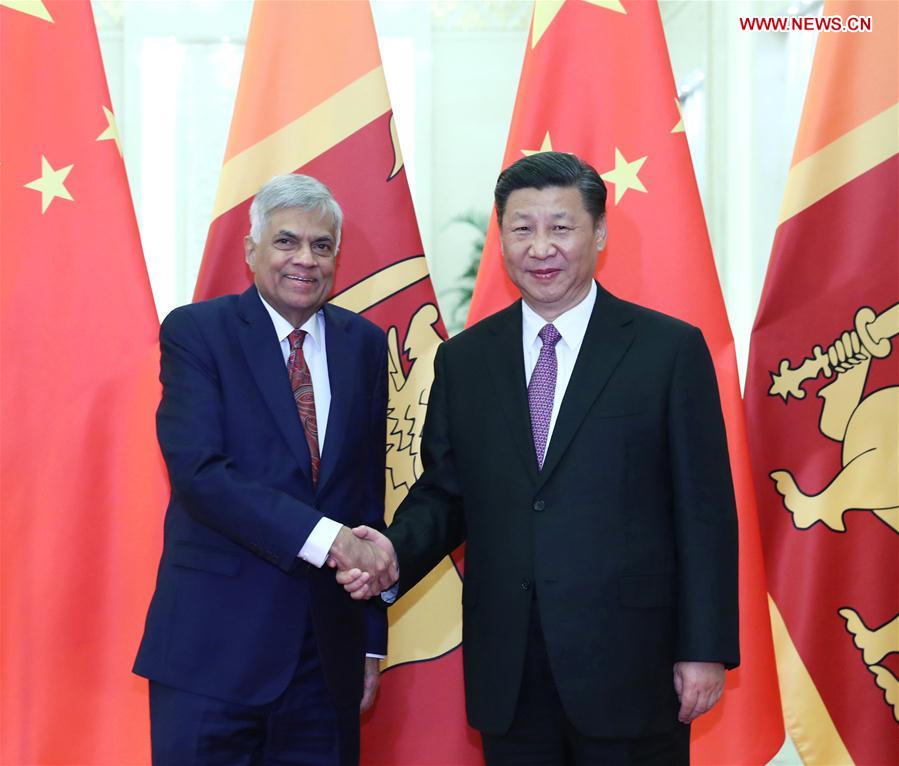 President Xi Jinping meets with Sri Lankan Prime Minister Ranil Wickremesinghe in Beijing, May 16, 2017. Wickremesinghe attended the Belt and Road Forum for International Cooperation on May 14-15 in Beijing. [Photo/Xinhua]
It's a long-term and strategic choice for China to maintain its friendly policies toward Sri Lanka, President Xi Jinping said on Tuesday, while calling for efforts to push forward major projects.
Xi highlighted the close ties during a meeting with Sri Lankan Prime Minister Ranil Wickremesinghe, who attended the Belt and Road Forum for International Cooperation held in Beijing from Sunday to Monday.
Noting that this year marks the 60th anniversary of China-Sri Lanka diplomatic relations, Xi said China attaches great importance to the development of ties with Sri Lanka. China supports Sri Lanka's efforts to safeguard national unity, peace, and ethnic reconciliation, Xi said.
The two countries should push forward cooperation on various sectors including infrastructure, maritime and aviation to boost interconnectivity, Xi said, adding that the two sides should seize the opportunity of building the China-Sri Lanka Free Trade Zone to boost trade and facilitate investment.
China would like to enhance exchanges with Sri Lanka in areas including youth, think tanks, colleges, media, religion, tourism and local-level governments, Xi said.
The Sri Lankan prime minister congratulated Xi on the Belt and Road Forum for International Cooperation, saying that the forum was successful with participants from numerous countries and international organizations.
Sri Lanka welcomes China to join its process of industrialization, especially in infrastructure, he said.
Sri Lanka is willing to make joint efforts with China to push forward the Hambantota harbor project and the Colombo Port City project smoothly, he said, adding that Sri Lanka wishes to make full use of its geographic advantage to contribute to building the Belt and Road.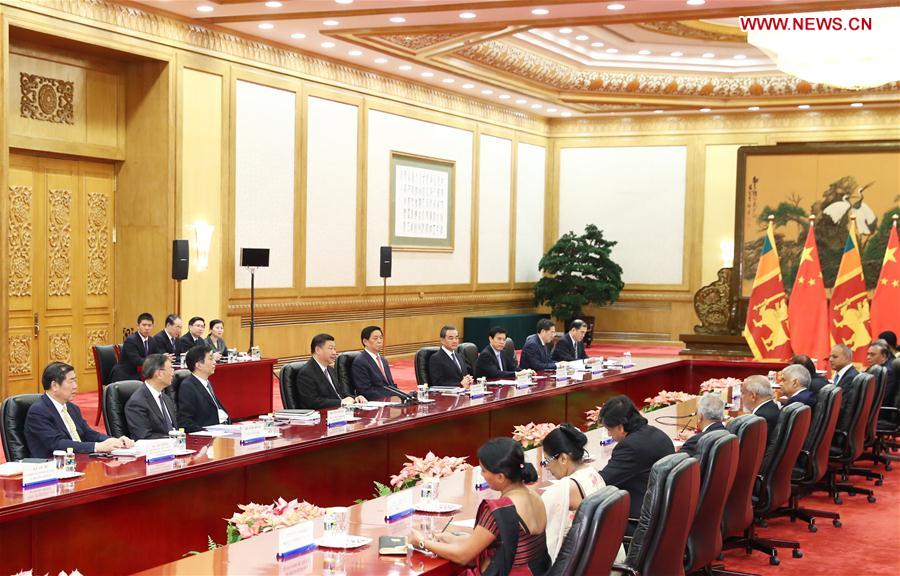 President Xi Jinping meets with Sri Lankan Prime Minister Ranil Wickremesinghe in Beijing, May 16, 2017. Wickremesinghe attended the Belt and Road Forum for International Cooperation on May 14-15 in Beijing. [Photo/Xinhua]