Helping passengers a calling for railway worker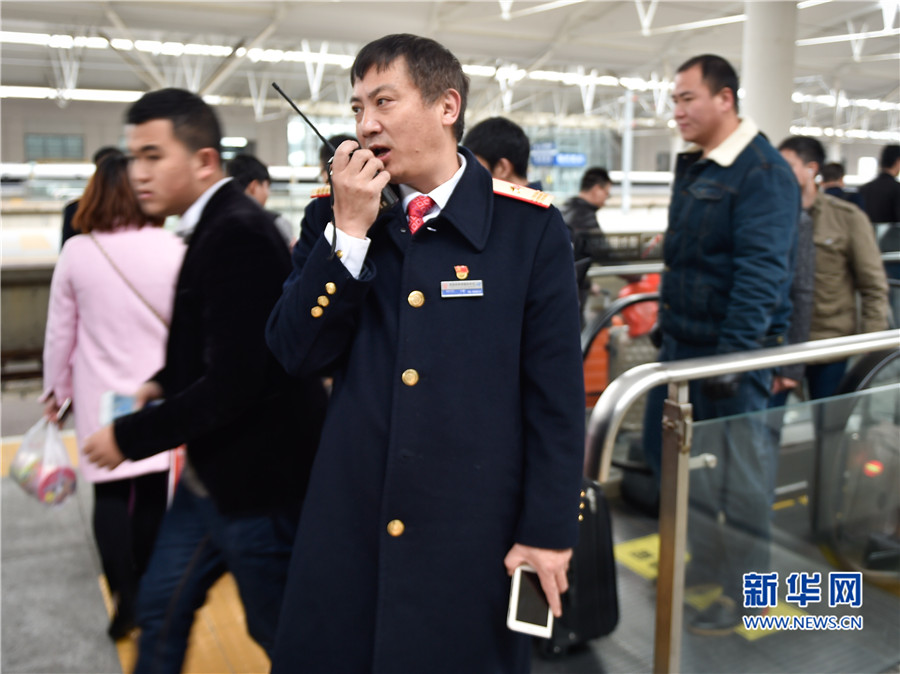 Wang Wei, a staff member at Fuzhou South Railway Station, works on the platform, February 2016. [Photo/Xinhua]
As millions travel to visit their families and friends for Spring Festival, spare a thought for the railway staff working hard behind the scenes to ensure passengers a safe journey home. Ma Chi reports from Fuzhou, capital of Fujian province in Southeast China.
"I am happy to see passengers go home by train safely every day," said Wang Wei, a staff member at Fuzhou South Railway Station.
At first glance, it is hard to ignore the inches-long scars on his neck. They are legacies from four operations he has had to remove a tumor on his nerve several years ago.
"It's not a big deal," said Wang smilingly. He added that in his eyes, the most important thing is to provide the passengers with best services. That's what he has done in all these years.
Wang admitted that at the early years of his career, he did not take his job seriously and thought it was trivial and boring. But one incident changed his mind.
Wang recalled that in an afternoon in the winter of 1994, a woman in her 20s who has just gotten off the train collapsed and died from heart attack right in front of him. Wang watched her collapse and die, not knowing what to do.
"It was our incompetence that killed the girl," said Wang, adding that's when he realized the importance of his job. Since then, he has polished his skills every day and has become a star worker.
The Fuzhou South Railway Station, which opened in 2010, transports tens of thousands of people every day on high-speed trains.
It is Wang's 31st year serving passengers heading home for Spring Festival, the most important day for family reunion. In his time working at train stations, he has witnessed many changes.
"In the past, passengers were satisfied with simply going home, but now they want more quality services," Wang said.