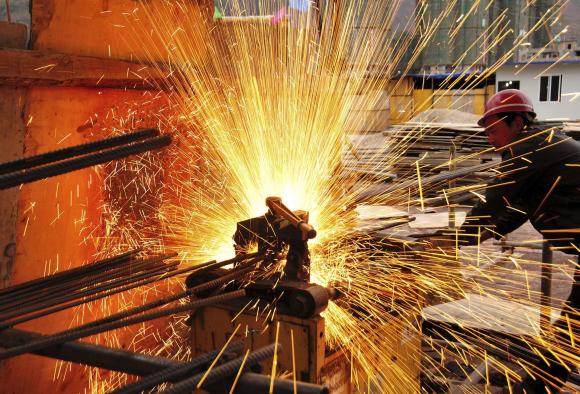 A worker welds at a construction site in Yiliang, Yunnan province, February 28, 2015.[Photo/Agencies]
January-to-February economic data released over the weekend do not seem to indicate a V-shaped recovery coming anytime soon but show slow stabilization, analysts said.
Industrial output rose by 5.4 percent year-on-year in the first two months, the slowest since late 2008, while retail sales rose by 10.2 percent from a year earlier, the National Bureau of Statistics said on Saturday.
Both indicators slowed compared with the same period the previous year, providing no relief for policymakers, who are under pressure to meet the country's annual growth target of 6.5 to 7 percent.
New bank loans, meanwhile, beat market expectations, dropping to 726.6 billion yuan ($112 billion) from January's record 2.51 trillion yuan, the People's Bank of China, the central bank, said on Friday.
A silver lining is the pickup in fixed-asset investment, driven in a large part by real estate development. It showed growth of 10.2 percent year-on-year in the first two months, compared with 8.2 percent in December 2015.
According to a research report by China International Capital Corp, fixed-asset investment and other indicators may continue to pick up in March.
"There may be signs of initial economic stabilization in March, especially considering that the bases last March are quite low," the report said.
Lu Zhengwei, chief economist of Industrial Bank, said the economy "still faces difficulties even though there are signs of stabilization".
He said changes in the major economic indicators in the first two months show that China's macroeconomic policy stance is stable and appropriate, since policymakers have adopted a strategy of range-based regulation, referring to the country's growth target range.
"As the economy stabilizes, its monetary regulatory stance will weaken a little bit; and if it sours, the stance will strengthen," Lu said.
The plunge in new loans in February was also attributable to reduced economic activity associated with the weeklong Spring Festival holiday, which fell in February this year, analysts agreed.
As a sign of policymakers' confidence in the current state of the economy, central bank Governor Zhou Xiaochuan told a news conference on Saturday that China will largely keep its monetary policy stable "unless major international or domestic economic or financial volatility" ensues.
The country may take more fiscal measures, such as tax cuts, to help stabilize the economy, Lu said: "Tax cuts work like traditional Chinese medicine - in the short term, it may look quite mild, but in the longer term it is quite effective."
The signs of economic stabilization also provide some room for furthering market-oriented reforms, including reform of State-owned enterprises, according to the CICC report.