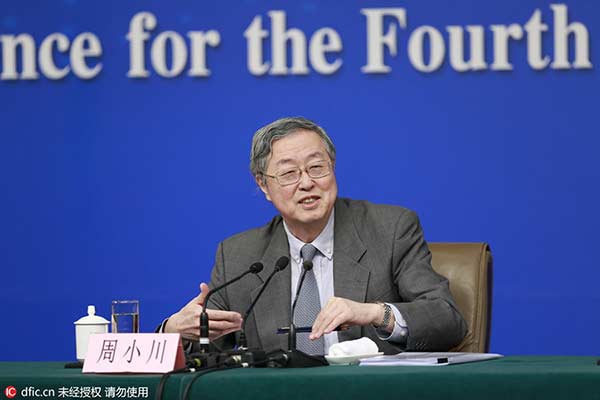 China's central bank governor Zhou Xiaochuan at a press conference on the financial reform and development on the sidelines of the fourth session of the 12th National People's Congress in Beijing, capital of China, March 12, 2016. [Photo/IC]
Market sentiment toward the Chinese currency will return to being rational and normal, the central bank's governor said on Saturday.
His remark came in response to query on whether the recent stabilization of yuan's value was "temporary" or "long-standing".
Expectation of yuan depreciation weakened after the central bank's data this week showed China's foreign exchange reserves fell by only $28.6 billion in February, compared with a $99-billion fall in January.
Zhou Xiaochuan, governor of the People's Bank of China, was asked on Saturday whether the currency stabilization was "temporary" or "long-standing".
Zhou said it is difficult for him to predict the exchange rate movement in the market, but said "despite volatility, calm and normalization always follow a period of turmoil".
"As the market returns to calm, they (traders) will return to 'fundamental analysis', for example, the country's current growth rate or potential GDP growth rate. The equilibrium price of currency -- does it depend on market sentiment, or the Balance of Payments? If the market calms down, the view will pivot toward normalization," he said.
"If no emergency event happens, the return to normalization and fundamentals will continue," he said.