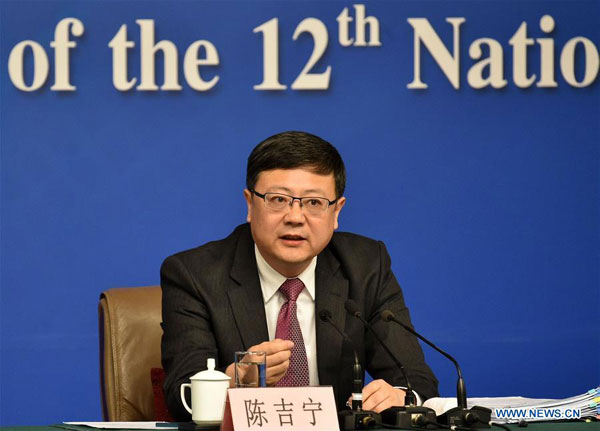 Chinese Minister of Environmental Protection Chen Jining answers questions at a press conference on how to promote environmental protection on the sidelines of the fourth session of China's 12th National People's Congress in Beijing, capital of China, March 11, 2016. [Photo/Xinhua]
BEIJING - Minister of Environmental Protection Chen Jining on Friday praised the ruling of Supreme People's Court (SPC) on a public interest litigation case about pollution in northwest China's Tengger Desert.
An environmental group filed a suit against eight companies for dumping unprocessed waste in the Tengger Desert in August last year but Zhongwei Intermediate People's Court in Ningxia Hui Autonomous Region refused to hear the case.
The SPC ruled on Jan 28 that the Zhongwei court should take the case, Chen told a press conference on the sidelines of the ongoing annual session of the National People's Congress.
Several companies in Gansu, Inner Mongolia and Ningxia, which border the desert, were found to have illegally dumped industrial waste in the desert since 2007. Earlier media reports said the contamination threatened groundwater in the area.
Although the companies were shut down, with some of their executives prosecuted and several local officials punished, restoration of polluted areas has made little progress, according to the China Biodiversity Conservation and Green Development Foundation that filed the public interest litigation case.
Some firms even misappropriated public funds designated to restore the desert, evading their responsibilities, said a statement from the foundation in August.
The foundation hopes legal means can force the polluters to restore the land or compensate victims. The case serves as a typical example of a public interest lawsuit and a warning for other polluters.
China's environmental protection law, revised in 2014, introduced public interest litigation and expanded the definition of who can be the plaintiff in these cases.
Last year Chinese courts heard 53 public interest litigation cases, in six of which environment departments were sued for nonfeasance.