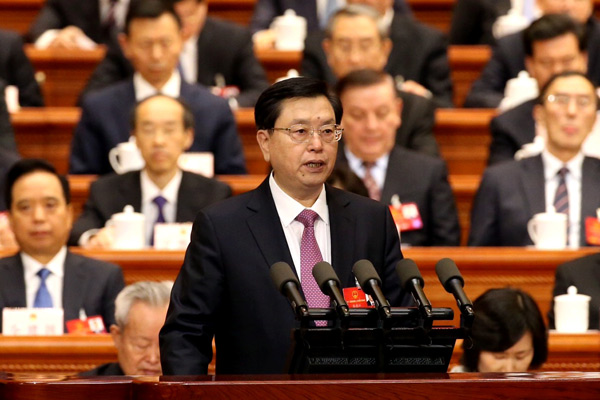 Top legislator Zhang Dejiang delivers the NPC Standing Committee work report at the annual session in Beijing on Wednesday. [Photo by Xu Jingxing/China Daily]
Lawmakers will continue to push forward anti-corruption and related legislation this year, top legislator Zhang Dejiang said on Wednesday.
Zhang, chairman of the Standing Committee of the National People's Congress, the top legislative body, said a law will be drawn up on international criminal judicial assistance this year. Possible revisions to the Law on Administrative Supervision would also be explored.
He made the comments as he delivered the committee's work report to the annual session of the NPC.
Top lawmakers will also work on a law on the management of international NGOs in China and a law focusing on cybersecurity, Zhang said.
Huang Feng, a law professor at Beijing Normal University specializing in repatriation and extradition issues, welcomed legislation on international criminal judicial assistance, saying that introducing such a law would contribute more to China's future work in this area.
"I'm glad to hear that our legislature has put this legislation on its agenda. We had a law on extradition in 2000, but that is not enough," Huang said.
He said the upcoming legislation will focus mainly on goods "or the problem of asset recovery, investigation and evidence collection" which will be written into the legislation with the aim of solving related problems.
For example, China has no law on asset recovery, "which makes it hard for us to find solutions to the problems, ... even if we do have some international treaties," he said.
As a drafter, he said considerable research has been carried out on such legislation. "It will be submitted to the committee for discussion soon, and I am looking forward to this."