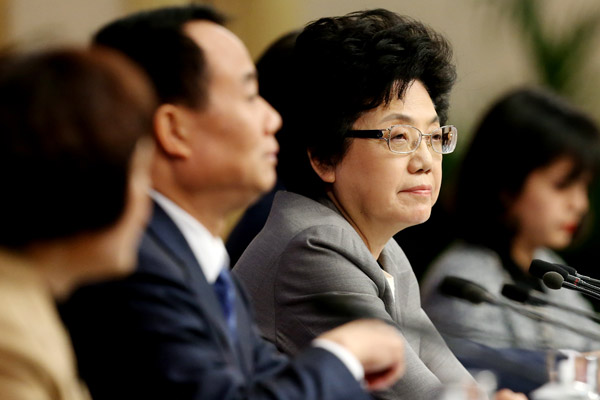 Li Bin, head of the National Health and Family Planning Commission, attends a news conference on the sidelines of the national legislature annual session on Tuesday.[Photo by Jiang Dong/China Daily]
Measures are being taken to deal with expected boom in older mothers, says top health official
Around 700,000 fertility treatment surgeries are carried out in China every year, a top health and population official revealed on Tuesday.
Ma Xiaowei, vice-minister of the National Health and Family Planning Commission, China's top health authority, said that the surgeries were being done at the country's 432 certified medical institutions.
"Our assisted reproductive technologies have now reached a world-class level," he told a news conference at the annual two sessions of the National People's Congress and National Committee of the Chinese People's Political Consultative Conference.
Ma said health authorities were taking measures to cope with the expected influx of pregnancies in the wake of the new universal two-child policy, which was adopted earlier this year.
Provincial-level emergency centers will be set up after 2017 to deal with older pregnant women, who are considered at higher risk of complications, and improved intensive care units will be built, he said.
The second-child policy, which is envisaged as a counter to China's aging population and declining workforce, made another 90 million women eligible to have a second baby-half of whom are aged 40 and above, according to the National Health and Family Planning Commission.
As more Chinese women choose to have children later in life, an increasing number are seeking fertility treatment abroad, according to media reports.
Xu Jinglei, a 42-year-old actress, announced last year that she had traveled to a clinic in the United States to have some of her eggs frozen.
Li Bin, minister of the commission, said on Tuesday that China had no timetable for abandoning family planning policy altogether.
"We will stick to family planning policy as a basic national policy, and will adjust and improve it in line with population development trends," she told the news conference.
"Our population reached 1.375 billion last year, and by comparison, the population of the United States, the world's largest economy, is around 320 million."
According to Li, China's population will reach a peak at around 1.45 billion before gradually declining to about 1.38 billion by 2050-deemed an acceptable level given the country's natural resources.
Wang Pei'an, vice-minister of the commission, said at the same conference that couples who violated the new family planning policy by having more than two children would still be subject to fines, based on their annual income.