Home / China / Innovation
Space Journal: Entry 7 - Chinese farmers in space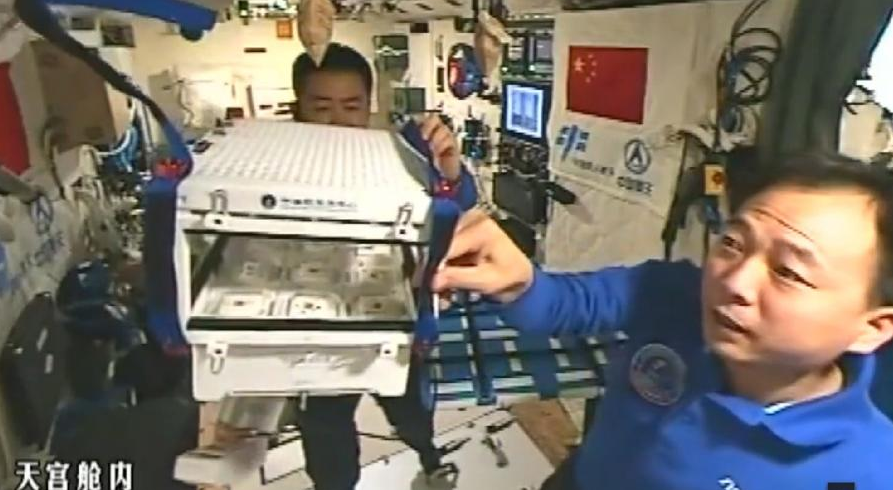 Astronauts take care of the plants in Tiangong-2.[Photo/Xinhua]
By Xinhua special correspondent Jing Haipeng

ABOARD TIANGONG-2 -- Greetings to everyone. Today (Nov. 11) is my 24th day onboard Tiangong-2. I am Xinhua space correspondent Jing Haipeng.

I have heard that people are curious about the gardening tests we are doing up here, so let me tell you about how we are growing lettuces.

We did some routine gardening today. We tested the moisture and nutrient content in the culture substrates, and provided our plants with light and air.

We use a device to test if the plants need more or less moisture, a lower reading indicates that our lettuces need watering. We also inject air onto the roots of the lettuces, which helps them grow better.

We are like farmers in space, and we have to spend at least 10 minutes everyday tending to our lettuces.

The culture substrate we use is not like the soil on Earth, it is a specially-developed mineral material.

We began the gardening tests on our second day in Tiangong-2. First we had to install the cultivation device, which came in individual parts -- like Lego. We installed the completed device inside a white box.

Then we watered and sowed.

In the lead up to this mission, some of the seeds had been processed into little balls and put into individual unit cells. Lettuce seeds are smaller than sesame seeds, so they had to be covered in a special coating to form mung-bean size balls, which made it easier for us to handle them.

The balls were designed so that the seeds separate from the coating when they come into contact with water, however, we have found that the coating affects the sprouting process slightly.