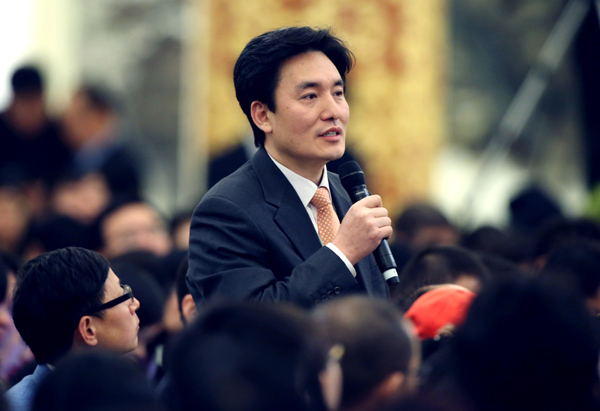 A Korean Broadcasting System reporter asks Premier Li Keqiang a question in Mandarin.WU ZHIYI/CHINA DAILY
It seems that speaking Mandarin is becoming more important for foreign reporters working in China, especially those attending a news conference with Premier Li Keqiang on Sunday.
Seven foreign journalists got the opportunity to question Li. Five of them, including reporters from Financial Times, Bloomberg and Korean Broadcasting System, asked in Chinese.
After hearing a question about Chinese buying houses in key cities around the world from the Financial Times, Li praised his fluent Mandarin and asked whether he had bought houses in China.
Foreign reporters who cannot speak Chinese well, or at least understand the basics, could lose opportunities.
For example, when Liu Jianchao, the spokesman for the Ministry of Foreign Affairs who co-hosted the news conference, designated a reporter from Agencia Efe, the Spanish news agency, for a question, it seemed the journalist didn't understand, and there was a long pause. An Austrian reporter grabbed the microphone and asked his question before the Spanish speaker stood up.
Speaking Chinese is not easy for some foreign journalists. It was tough, even awkward, for a KBS reporter who raised a question about China's economy.
Oh Se-kyoon, chief of the Beijing bureau of KBS, had to stop several times to consult his notebook while asking a question in Mandarin.