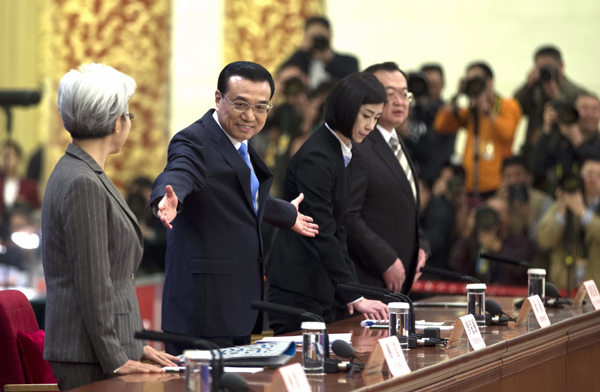 Premier Li Keqiang greets domestic and overseas journalists at the Great Hall of the People in Beijing on Sunday after the annual national legislative session ended. Feng Yongbin/China Daily
The government will continue to offer more convenience to encourage people to start their own businesses in 2015, aiming to further boost the market's vitality, Premier Li Keqiang said at a news conference on Sunday.
"People shouldn't have to go through so much trouble to get business registered," Li said, adding that market access will be further relaxed and business license registration will become easier this year.
"The government must eliminate roadblocks and pave the way for entrepreneurship," Li said, adding that in some areas, the services sector government also needs to foster more favorable conditions, especially for small and medium-size businesses.
He said that local government is responsible for providing low-rent locations and favorable tax policies to fully support small businesses. He also encouraged "mass entrepreneurship"-meaning that many people should make an effort-and he pledged to streamline government functions and improve administrative effectiveness.
During the two session conferences in March, mass entrepreneurship and innovation became a hot topic, along with ways to make government more effective to boost the market's vitality.
Qian Yingyi, dean of the School of Economics and Management at Tsinghua University and a member of the Chinese People's Political Consultative Conference, said the government should adopt a service orientation to encourage innovation and entrepreneurship.
Qian suggested a platform be created to provide legal support, improve monitoring and remove barriers created by old policies.
Han Deyun, a National People's Congress deputy and a lawyer from Solton & Partners, said the central government's simplification of procedures for business registrations saves time and creates convenience for lawyers and business owners.
Zhang Haoqian is one of the entrepreneurs enjoying those benefits. The 22-year-old recently registered a small company to provide agricultural and logistic assistance to local herdsman in the Inner Mongolia autonomous region.
"All procedures can be completed in the county now," Zhang said, recalling that his father, a pioneer entrepreneur, used to spend many days shuttling between the city and county governments for qualification and registration.
As a graduate student at Tianjin University, Zhang also enjoys preferential policies for student entrepreneurs, such as a rental rate of 6 yuan ($1) per square meter for a house in Hebei province.
However, he still has difficulty with business matters. Zhang and some college friends enrolled another company in Hebei province.
"Baoding (of Hebei province) has a service hall that's supposed to offer all kinds of administrative approvals, including tax and technology support. But because I enrolled a business in the new area where they offer preferential policies to graduate student entrepreneurs, I have to get approvals separately in different government departments," Zhang said.
"I can see the government's improvement but they are still in transition."