Spouses, children in Shanghai will no longer be allowed to run businesses or practice law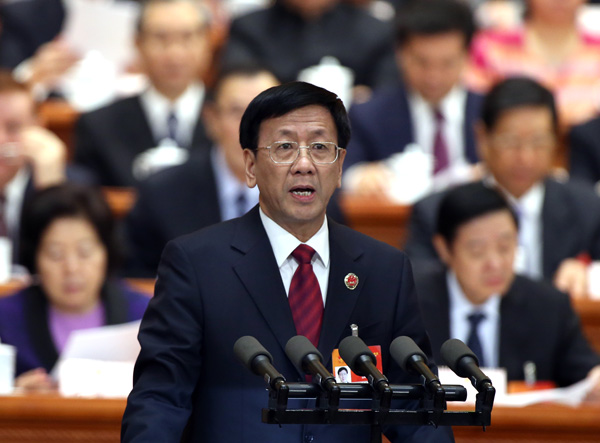 Cao Jianming, the procurator general of the Supreme People's Procuratorate (SPP), delivered a work report to national lawmakers during the third session of the 12th National People's Congress at the Great Hall of the People in Beijing, March 12, 2015. [Photo by Wu Zhiyi/China Daily]
The spouses and children of prosecutors in Shanghai are to be banned from running businesses or serving as lawyers to ensure judicial fairness, a senior official from the city's procuratorate said.
The measures are being introduced in response to a decision made by the central leadership in November to accelerate the judicial reform process.
Shanghai was chosen as the pilot city for a series of changes, said Chen Xu, chief prosecutor at the Shanghai Municipal People's Procuratorate and also a deputy to the National People's Congress.
"After the measures are implemented, prosecutors will behave correctly, which is conducive to safeguarding social fairness and improving judicial credibility," he added.
Since the current leadership took office in Nov ember 2012, the country has conducted a sweeping campaign against corruption.
To date, more than 60 high-ranking officials have been placed under investigation for alleged graft, including four former State leaders.
The Central Commission for Discipline Inspection says a number of the high-ranking "tigers" under investigation abused their power to benefit enterprises.
They allegedly accepted large bribes through family members who were either running businesses or working as lawyers.
Chen said that even if some officials do not abuse their power to assist family members, spouses or children with companies or who serve as lawyers could still benefit. Other government departments might be inclined to assist them, for example by giving the green light when they apply for permission to launch projects, because of their influential family connections.
"This will have a bad impact on social fairness and justice," said Chen.
Shanghai discovered that nearly 100 prosecutors in the city had family members who were serving as lawyers or running businesses.
"After careful examination, we have asked them to stop working as prosecutors and move to another department, such as administration, or persuade their family members to give up their businesses," Chen said.
Figures from the procuratorate show that last year 442 officials were investigated for alleged corruption, an increase of 10 percent compared with 2013.
"While promoting judicial reform, we will further improve our investigative capability and strengthen efforts to combat corruption," he added.
Further efforts will be made to identify corrupt grassroots officials working in counties or towns.
"In addition, we will set up a special force to investigate cases involving the directors of local State-owned enterprises."
Li Wei from the Beijing Lawyers Association said, "As the pilot city for judicial reform, Shanghai will accumulate practical experience and serve as an example for other provinces and regions."