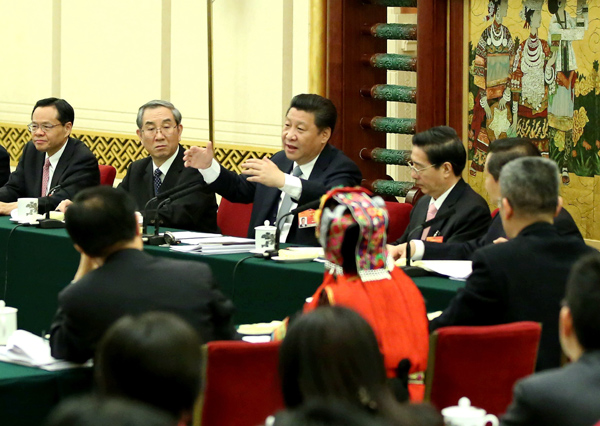 President Xi Jinping leads a discussion with deputies from South China's Guangxi Zhuang autonomous region during the third session of the 12th National People's Congress in Beijing on March 8. [Photo/Xinhua]
As the nation's top legislative and advisory bodies meet in Beijing, President Xi Jinping is using his experience of life in the provinces to provide a 'hands-on' approach to different issues, as Zhao Shengnan reports.
How many Siberian tigers live in the wild in China? What do they eat? Can the species survive? Do boars live in the Changbaishan Mountains?
These aren't questions from a wildlife quiz, but a sample of the queries put forward by President Xi Jinping when he joined deputies of the National People's Congress on Monday to discuss environmental protection in the northeastern province of Jilin.
For the delegates, it's a rare opportunity to meet Xi, general secretary of the Communist Party of China, during the annual meetings of the country's highest legislative and advisory bodies, the National People's Congress and the Chinese People's Political Consultative Conference.
It's also a huge challenge, because everyone needs to be on their toes to deal with the president's machine gun flow of questions and suggestions.
Xi's presence gives delegates an opportunity to tell the man at the top about the progress of their work, to present proposals, or request more support from the central government. They also get the chance to listen to Xi's opinions on the challenges they are encountering.
It's a two-way street, though, and the delegates have to field a battery of questions, couched in precise detail by Xi, who is also a deputy to the National People's Congress, during the meetings, which often run on long after they are scheduled to end.
On Sunday, when Xi met NPC deputies from the Guangxi Zhuang autonomous region, the questions came thick and fast: How many counties were involved in the revolutionary base of the Zuojiang River and Youjiang River region? What's the difference between the walnuts you plant in South China and those grown by farmers in the north?
The two sessions began on March 3, and Xi participated in the first group meeting on March 4. By the end of Monday, Xi had joined in five separate meetings. In addition to the delegates from Guangxi and Jilin, he also met political advisers who specialize in issues related to Taiwan, and lawmakers from Shanghai and Jiangxi province in the east of the country.
"What proportion of days had good air quality last year?" Xi asked an official from Shanghai, China's economic hub. When the deputy replied "70 percent", another delegate added, "Sometimes the air quality was at the mercy of the elements," which triggered laughter from the room. "You can't always rely on the east wind (which disperses pollutants), and human effort is the decisive factor," Xi advised.