Editor's Note: As an important foundation of a modern nation, ruling the country by law has been made a top priority by the government. To make every Chinese "bask in the sunshine of fairness and justice", numerous people have made their contribution. Among them are lawyers, judges, journalists, and scholars. Here, we take a look at some of them who have left their mark on China's road to justice.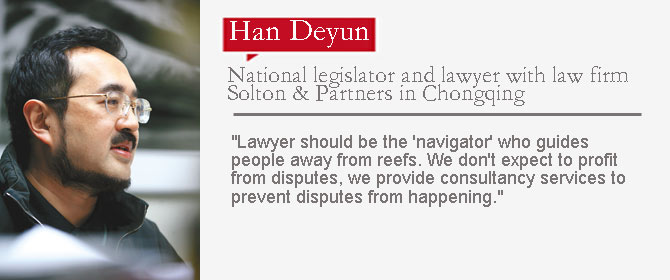 Han Deyun started his law career in 1994, the year when China began to allow private law firms to operate, after quitting his teaching job at a law university in Southwest China's Chongqing municipality.
"Thanks to the reform and opening-up policy, I had the chance to become a professional lawyer," said Han.
After setting up a law firm, he focused on disputes involving foreign trade, a growing industry as China went global.
"Lawyer should be the 'navigator' who guides people away from reefs," Han said on the idea behind running a law firm. "We don't expect to profit from disputes, we provide consultancy services to prevent disputes from happening."
Thanks to this concept, his company established its reputation among foreign trade companies in Chongqing.
In 2000, Han Deyun's law firm became the first in Chongqing to take part in the drafting of a local law as the government tried to improve the legislation mechanism by allowing more professional forces from the private sector to participate in the process.
That expanded his influence in the circle, and helped him get elected as deputy to the National People's Congress, China's top legislature, in 2003. That role gave him an opportunity to speak on behalf of other lawyers.
With the change in roles, Han had to balance his work and the role as a NPC delegate, which, unlike its counterparts in some countries, is a part-time duty in China.
"As an experienced business lawyer, I have good income. But now that I am a deputy, I have to fulfill my duties. Sometimes, it means putting aside my work and focusing on people's concerns," Han said.
Since becoming NPC deputy, Han has presented more than 300 proposals and motions, covering food safety, medical dispute, and rights of migrant workers.