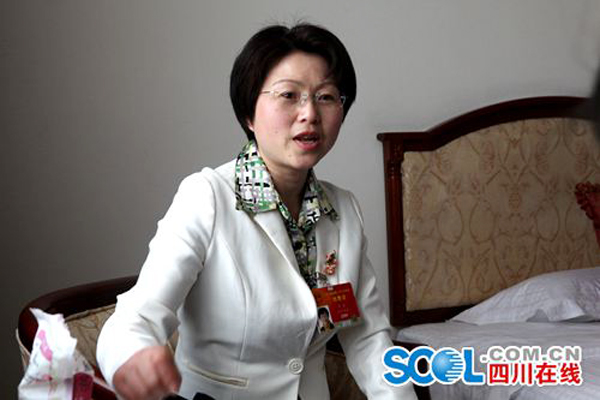 Hou Rong, a grass-roots deputy who speaks for the panda. [Photo/scol.com.cn]
When talking about Sichuan province, the panda is the best "spokesperson". Hou Rong, a deputy to the National People's Congress, is the spokeswoman of the panda.
With her short and no-nonsense hair, white coat and black skirt, Hou appears capable and experienced at first sight, scol.com.cn reported.
"I like doing real deeds rather than phony things," Hou said in her Sichuan dialect, which shows her frankness as a Sichuan woman.
As the director of the research center at the Chengdu Research Base of Giant Panda Breeding, Hou triggered domestic and foreign media attention, and the panda seems to be the sweet "burden" for her.
Hou has worked on research related to the panda since she graduated from Sichuan Agricultural University and took the job in 1994.
"I have no idea whether I have been given special attention, because there are many journalists," Hou said. "Maybe people pay high attention to the panda and I am just doing research on pandas for dozens of years."
Most of her NPC motions and suggestions are related to wildlife protection and environmental protection, Hou said.
Hou has her own opinion on why not just focus her motions on panda, saying that panda is just a little field, the fundamental problem will not be solved when the problem concerning panda protection is solely resolved.
"I submitted a motion on revising the wildlife conservation law," Hou said. "Giving wildlife an undisturbed space, they will live and breed on their own and they will share the earth with human beings."
"I'm a grass-roots deputy and I submitted a similar motion in the previous session," Hou said. "I want to supplement and improve it by taking the opportunity this year."
Hou has contact with the pandas nearly everyday because of her work. Getting along well with pandas for up to 20 years, Hou never gets tired of the pandas. The pandas living area is near Hou's office, just five minutes' walk.
"I see almost all the pandas in our research base everyday, and I cannot help to appreciate cute pandas," she said.
"I also browse the news about pandas, even during the two sessions," Hou said, "The main channel I use to read the news is through the Internet."