Large numbers of security guards quit their jobs every year because of low pay and a lack of training that restricts their chances of gaining promotion. Others suffer abuse and even violence from the public.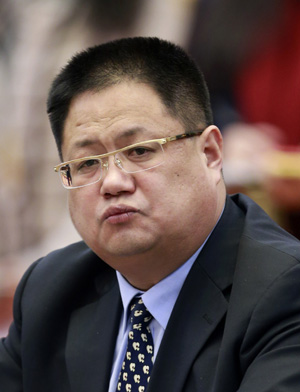 Zhu Liangyu
In an effort to reduce the number who leave, National People's Congress deputy Zhu Liangyu is calling for measures to improve their lives.
"My efforts are aimed at ensuring security guards get sufficient rewards and more protection, in the hope that the number leaving can be reduced," said Zhu, 42.
He has put forward a number of proposals concerning security guards since becoming an NPC deputy in 2013. He has devoted more than 20 years to the security industry, and says he has a "great affection for the job".
This affection dates back to 1993, when Zhu arrived in Beijing from his hometown, Heze in Shandong province. His ambition was to become a policeman and earn money for his family, but instead he became a security guard at a community in the capital's Haidian district.
"I never thought I would stay in the industry for so long," he said with pride.
Zhu understands how the guards who leave the industry feel as he decided to quit on his first working day after a visitor without identity papers insulted him when he refused him entry.
"I was in rage when the visitor shouted at me and looked down at me. I did not argue, I decided to change my job," he said.
On the way home, he noticed that a woman was following him.
"I felt uncomfortable and stopped. But then I realized she was following me because I was wearing a security guard's uniform, and this made her feel safe on the dark road. I was so moved and excited.
"At the same time, I held my head high and realized the job is important. I was determined to achieve something in the industry instead of quitting."
Zhu keeps a lookout for security problems when he visits shopping malls. He feels a sense of achievement when he helps victims of theft, and advises people to be careful in crowded places, such as around the doors of elevators.
"I like to remind women to take care of their bags when they are waiting in a line outside fitting rooms. I cannot bear it when someone is bullied and always want to help if people are in danger," he said.
caoyin@chinadaily.com.cn