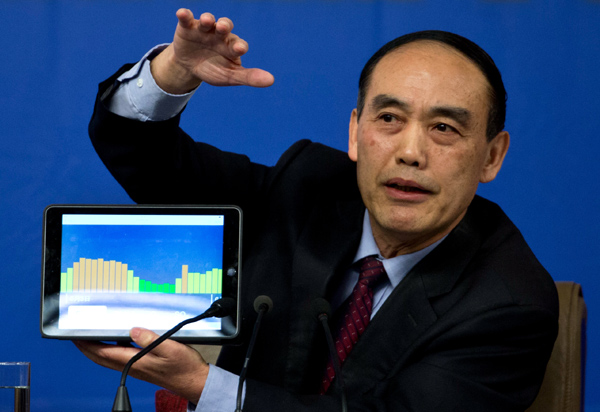 Yuan Si, vicechairman of the Environmental Protection and Resources Conservation Committee of the National People's Congress, shows an information graphic to reporters during an NPC news conference in Beijing on Tuesday. FENG YONGBIN / CHINA DAILY
The national environmental watchdog will tighten the reins on assessment agencies having close relationships with officials of the ministry, a move to fight corruption, the new minister of environmental protection said.
"We will never allow these agencies to make illegal money during the environmental assessment process by taking advantage of their close relationship with the officials and the ministry," Chen Jining said in a news release on Saturday.
The eight environmental assessment agencies affiliated with the ministry will transfer their work to commercial companies this year, Chen said, adding that the ministry will promote these reforms gradually, cutting the relation between the local branches and environmental authorities.
On Feb 9, the Central Commission for Discipline Inspection issued statements leveling criticism at the Ministry of Environmental Protection for problems including violations of the law, lax supervision and corruption.
It said that some leaders, officials and their relatives interfered with the environmental assessment process of projects and went so far as to set up agencies to seek illegal profit from projects in return for an environmental assessment.
The ministry will conduct a new round of inspections this year targeting all the environmental assessment agencies nationwide, said Cheng Lifeng, head of the ministry's Department of Environmental Impact Assessment.
All the agencies, regardless of whether they are public institutes or commercial companies, will be banned from providing environmental assessment services for any project if they are found to maintain a close relationship with the environmental authorities, he said.
In a recent inspection of environmental assessment agencies, the ministry found 63 agencies at fault. It suspended their qualification to conduct assessments and required them to rectify their problems in three to 12 months.