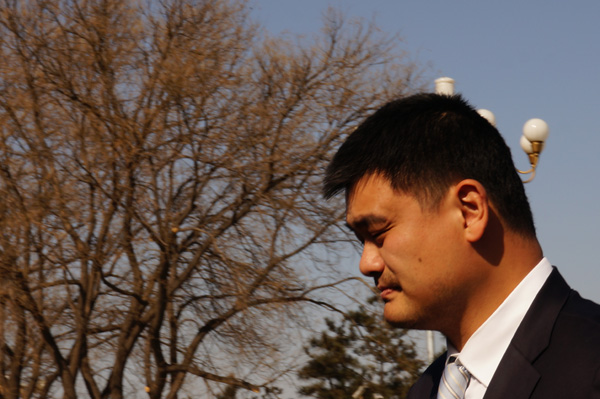 Former NBA player Yao Ming arrives at the opening ceremony of the Chinese People's Political Consultative Conference (CPPCC) at the Great Hall of the People in Beijing, March 3, 2015. [Photo by Guan Xiaomeng/chinadaily.com.cn]
Yao Ming is unhappy with the media continually labeling him "star CPPCC member" and has urged more attention be paid to his work as purely a "CPPCC member".
Taking questions on Monday concerning the CPPCC's role in state affairs, the former NBA player said his job is to participate in state affairs by making high quality proposals and then get them heard.
"I am not a 'star CPPCC member'. Being a star is my past," said Yao in response to a question on a "star member's role in the CPPCC". "I need more attention paid to what I am doing during my CPPCC membership, but not what I have achieved in the past. Serving on the CPPCC is a serious thing."
Yao was invited to a biweekly discussion panel hosted by CPPCC Chairman Yu Zhengsheng last April, where he proposed abolishing administrative approval of sports events. His plan was included in a paper delivered by the State Council on accelerating sports industry development and stimulating sports in October.
"There is a backlog of proposals and ideas during the two sessions and some of the hotspots may not get dealt with. The biweekly meeting is a good chance," said Yao, adding he is looking forward to more opportunities to attend the panels.
The 2.26 meter former basketball player is always a media target at the two sessions, with journalists crowding and cameras clicking anywhere he appears.
"Some of you ask me for autographs and group photos during the sessions. I don't think it is right," he said.
He spoke of China's soccer reform against the background of an overall plan issued by the CPC central committee in February. "As a basketball player, I was jealous of the soccer plan. The problem in China's football is complex…I can only say one of the problems is a lack of school soccer."