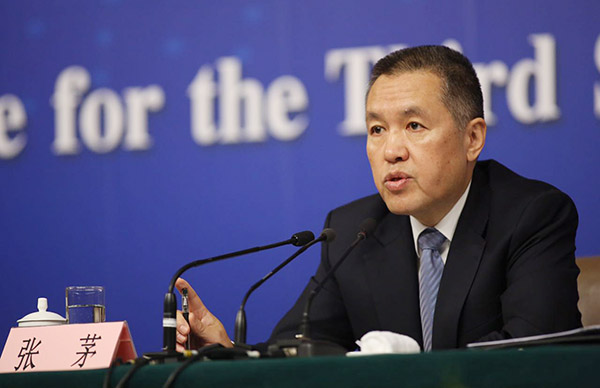 Zhang Mao, head of the State Administration for Industry and Commerce, speaks at a press conference in Beijing, March 9, 2015. [Photo by Wang Jing/China Daily]
BEIJING - China must establish a system to record and restrict e-commerce firms that break rules on counterfeit goods, said the chief of the country's commercial regulator on Monday, responding to a question on the sale of fakes on Alibaba Group Holding Ltd's websites.
The cost of breaking existing rules about selling counterfeit goods online is too low, said Zhang Mao, head of the State Administration for Industry and Commerce (SAIC), at a news conference during China's annual parliamentary session in Beijing.
If punishments are made more severe then the market will improve and fake goods will disappear, Zhang said, adding that e-commerce is growing faster than regulations and laws can keep up, and firms and the government should cooperate more.
Alibaba and the SAIC were engaged in an unusually public dispute in late January over the sale of fake goods through Alibaba, though the regulator's "white paper" which sparked the standoff was quickly retracted.
Here are other highlights of the news conference.
Business system reform
China will continue to reform its business system to ease government regulations for companies and inject vitality into the market, Zhang said.
"Chinese authorities will continue to streamline administration, delegate more powers to lower levels so as to give the market and society more play in economic development, and ease regulations for businesses," the minister added.
China this year will further simplify the process for entrepreneurs to register or nullify their businesses, give companies more decision-making power to choose their business scopes, he said.
"China will also press ahead with the reform of integrating the business license, the certificate of organization code and the certificate of taxation registration into one certificate to ease the registration procedure for companies," Zhang said.
Parallel import from Hong Kong
Parallel import from Hong Kong to the mainland has brought inconvenience to people's lives in Hong Kong and has robbed companies of opportunities, Zhang said.
"This is an unfair competition and we have been taking strict measures to investigate and prosecute. We have noticed the importance of the issue and will try to resolve the problem further," he added.
Anti-trust cases
SAIC said it investigated 47 anti-trust cases in the past year, highlighting its role in providing a fair market.
Twenty one cases have concluded, Zhang said.
Detailing the regulator's efforts to break the monopoly, the minister said their first swing against the market raised public awareness about various industries such as e-commerce, home appliances, electronic products and childcare products.
Zhang also highlighted the inspection carried out on the advertising industry by the regulator.
Big-name multinational companies were targeted after the nation's regulators launched tough anti-monopoly measures last year, making government organizations such as the National Development and Reform Commission and SAIC hitting headlines on regular basis.