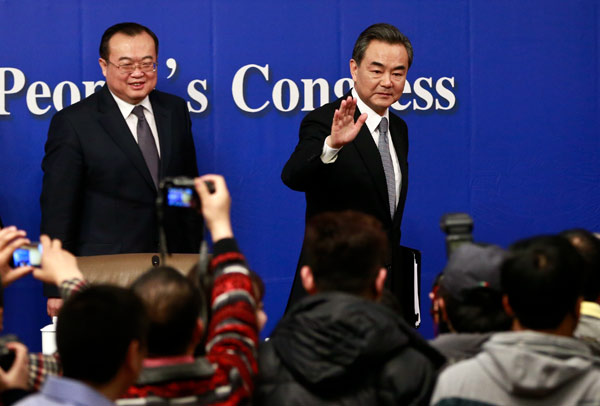 Foreign Minister Wang Yi waves to the media upon his arrival for a news conference in Beijing on Sunday. FENG YONGBIN / CHINA DAILY
Minister hails an era of 'win-win cooperation' built on a solid foundation of mutual respect
Chinese Foreign Minister Wang Yi said on Sunday China and United States should look to the future rather than focusing on their problems.
"China and the United States should not always use a microscope to magnify their problems, but use a telescope to look into their future and keep their bilateral ties evolving in the right direction," he said.
He was speaking at a news conference in Beijing during the third session of the 12th National People's Congress, China's top legislature. Wang answered 16 questions in his 90-minute meeting with about 300 journalists from home and abroad.
"China and the US are both big countries. There cannot be no divergence between them, and the divergences will not disappear overnight by constructing a new kind of relationship between such big powers," Wang said.
"Constructing a new pattern of big-power relations between China and the US will not be all smooth sailing. But it is necessary, because it is in line with the interests of both parties, as well as the trend of the times," Wang said.
"As long as both sides can show their sincerity, keep the bottom line of 'non-conflict, non-confrontation', and consolidate the foundation of 'mutual respect', we can realize a win-win cooperation."
Chinese President Xi Jinping will visit the US this fall at the invitation of his US counterpart President Barack Obama.
Wang hoped the meeting between the two leaders would add new vitality to their bilateral ties, after their last meeting in Beijing during the Asia-Pacific Economic Cooperation summit in November last year.
"China and the US have the most intensively interwoven interests, and the most frequent interactions in the Asia-Pacific region. If both sides can realize a positive interaction and improve strategic mutual trust, China and the US will make joint contributions to the region's peace, stability and prosperity," Wang stressed.
"China and the US should build a new security framework in the Asia-Pacific, make breakthroughs in bilateral military relations, which lag behind their political and economic ties, and open new realms of cooperation, such as cybersafety and global governance," said Yuan Peng, a researcher of US studies at the China Institutes of Contemporary International Relations.
"Otherwise, it is impossible to establish a new pattern of relationships between big powers."
Wang said: "Both China and the US are big countries on the Internet, and have common interests on cybersecurity issues. I hope cyberspace can become a new area in which China and the US can work together, not a new source of friction."
When asked about China's efforts in promoting new international political and economic order, which have been largely built and led by the US since World War II, Wang said: "China proposes to reform the current international order and system. We do not want to scrap it and start all over again, but to make use of what is already in place and improve it."