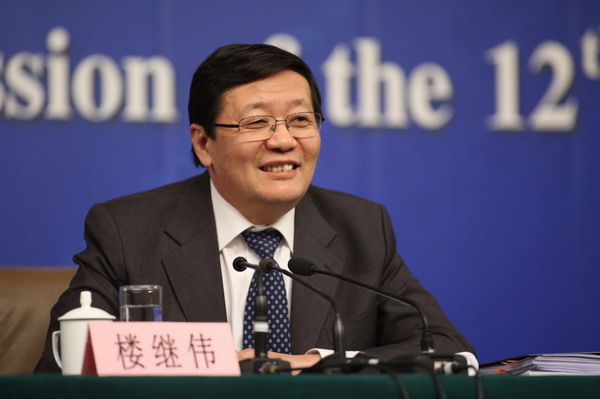 China's Minister of Finance Lou Jiwei takes questions from journalists at a news conference during the ongoing two sessions in Beijing, March 6, 2015. [Wang Jing / chinadaily.com.cn]
Central government spending this year is expected to total 2.5 trillion yuan, up 10.4 percent, to which a further 27.9 billion yuan ($4.46 billion) is to be added in funds carried over from previous years, according to a report released by Ministry of Finance on Friday.
Major progress has been made in reforming the fiscal and tax systems, said the report. In 2014, the ministry worked to ensure that constraints on budgets were tightened, fiscal and budgetary management was made more standardized, further improvements were made to the system for managing government debt and financial discipline was strengthened.According to the report, the ministry will continue to implement proactive fiscal policy in 2015, as appropriate, increase the intensity. The ministry will increase the deficit by an appropriate amount and put to use funds carried over from previous years to increase the intensity of spending.
Government deficit for 2015 is projected to be 1.62 trillion yuan nationwide, an increase of 270 billion yuan over last year, with increases in both the central and the local government deficit, the report said.
The ministry will implement structural tax cuts and reductions to fees across the board to strengthen our support for the real economy as well as strengthen efforts to make use of existing government funds. The government investments will be kept at a certain scale, and make good use of the guiding role of such investments.