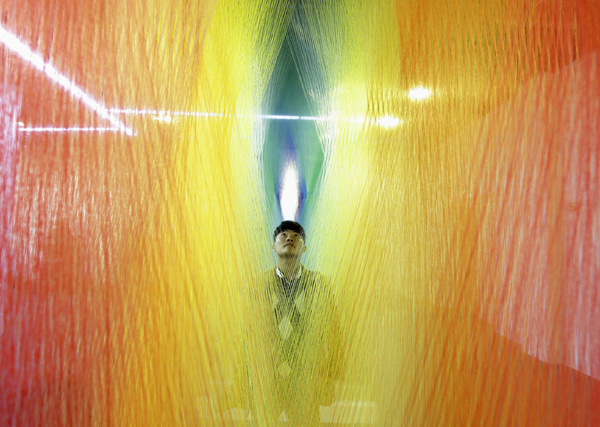 An installation made of sock textiles is on display at a demonstration hall of the local sock-making industry in Zhuji, Zhejiang province, in February. [Photo/Agencies]
China faces 'formidable challenges', says Li

A top economic planner said the 7 percent growth target set by the government could raise concerns over whether the rate can be met or a more relaxed monetary policy will be recommended.
Yin Zhongqing, deputy director of the finance and economic committee of the NPC, said liquidity may not meet the demands of the real economy, especially the needs of micro-, small- and middle-size enterprises which have been complaining about the difficulties and high cost of financing.
China plans to lower the annual GDP growth rate to around 7 percent from 7.5 percent, the slowest in 22 years, in light of the ongoing property downturn and deflationary headwinds, according to a government work report delivered by Premier Li Keqiang to the National People's Congress on Thursday.
The Chinese economy, which contributed about 30 percent to the world's total growth in 2013, has been facing downward pressure and has entered a stage known as the "new normal."
"New normal" means slower growth but, more importantly, it will be characterized by sustainable and quality growth for several decades to come, according to Li.
The pace of growth should remain stable within a reasonable range to create at least 10 million new jobs this year, and keep the registered unemployment rate to below 4.5 percent, the work report said.
The upper level of consumer price inflation (CPI) is targeted to be 3 percent this year, down from last year's 3.5 percent. It dropped to a five-year low of 2 percent in 2014.
"The report shows that the government will continue to de-emphasize growth targets and put more weight on the "quality" of development, which is characterized by a more balanced and sustainable economic structure, better income distribution and less damage to the environment," said Wang Tao, chief economist in China at UBS AG.