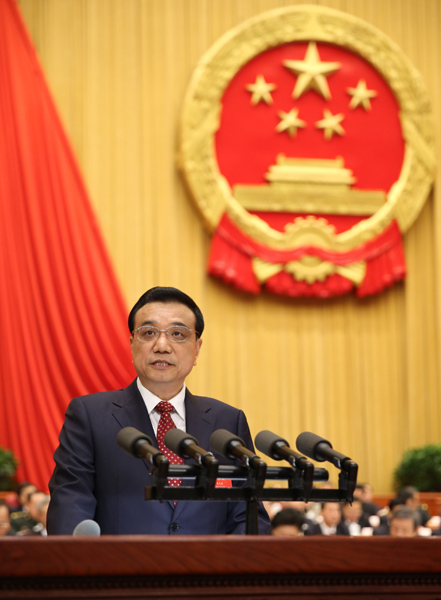 Premier Li Keqiang addresses national legislators on Thursday in Beijing during the opening of the third session of the 12th National People's Congress.[HUANG JINGWEN/XINHUA]
Some government employees still neglecting duties and behaving irresponsibly, premier tells nation's lawmakers
In a rare media report on Chinese leaders with a human touch, Premier Li Keqiang was described to have "thumped the table" in front of ministers. Some officials "would rather stand idle than do work to prevent making mistakes", Li was quoted as saying in a recent article published on the State Council's website. "They hold onto their posts but make only perfunctory efforts. Aren't they like deadwood?"
Removing such "deadwood" from government posts has become one of the four major missions for the government to tackle in the year ahead, according to the annual Government Work Report delivered by the premier on Thursday at the opening of the National People's Congress plenary session.
In front of thousands of lawmakers and political advisers, Li conceded that there is still much to be improved in the work of the government and that some policies and measures are not well implemented.
"A small number of government employees behave irresponsibly," Li said. "Shocking cases of corruption still exist, and some government officials are neglectful of their duties, holding onto their jobs while failing to fulfill their responsibilities."
As China's economic development has entered a new normal, government officials must "adopt a new attitude" as well, and the current system for officials' performance evaluations must be improved, he said.
It was the first time that a Chinese premier had publicly criticized indolent and sloppy officials in the annual Government Work Report, the most important program document of the world's second-largest economy, of which every sentence is weighed for its guiding significance.
China's economy grew by 7.4 percent last year-roughly in line with the government's growth target of around 7.5 percent, but still the slowest in 24 years.
The economy in three provinces expanded by less than 6 percent. The coal-rich Shanxi province hit the lowest, 4.9 percent, down from 8.9 percent the previous year, followed by Heilongjiang and Liao-ning provinces in Northeast China, the country's heavy industry hub.
Quoting the National Audit Office, Yin Zhongqing, deputy director of the financial and economic affairs committee of the NPC, said there was at least 3.5 trillion yuan ($560 billion) in carry-over and surplus funds by the end of December in the central budget, in comparison with the government's tight revenues.
"The contrast reveals the fact that some investment projects are in the middle of stagnation, mostly due to local governments' neglect of duties," Yin said. "For some local officials, less reliance on GDP growth means less motivation and activeness at work."
As the government is trying to shift the focus from economic expansion to more balanced development, Yin suggested that a new evaluation system of government employees is needed to encourage innovative work.