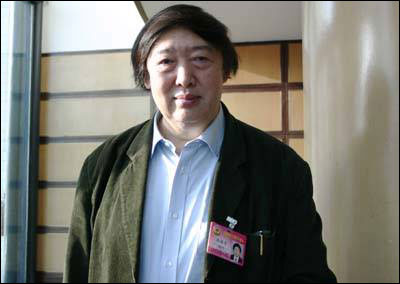 Author, painter and heritage protection activist Feng Jicai. [Photo/Agencies]
Many members agreed with Feng's proposal. Most of them said the key lies not in replacing simplified Chinese characters with traditional ones, but in passing on the cultural heritage of China to the next generation.
Famed author, painter and heritage protection activist Feng Jicai said cultural significance should not be lost against time.
"The evolution of characters is closely related to the speed of information flow (referring to fewer strokes in simplified characters versus traditional ones, hence less time it takes to write). We can pursue speed, but at the same time, we cannot lose tradition. We should at least let our children realize how the characters came to be as they are today."
"We can pick say 100 traditional characters and teach our kids how they were simplified to today's form and traditional meanings behind them," Feng Jicai added.
"We have lost too much traditional culture in the past. I hope we can find some back," CPPCC member and actor Zhang Guoli added.
Cross-talk artist Jiang Kun believes otherwise.
"I want to remind you all that 90 percent of simplified characters we use today were also used in the past. They themselves have carried on the culture," said Jiang.
Chinese singer Yu Junjian said he has already proposed this issue several times in the past, but his request was denied by the Ministry of Education.
"According to Scheme of Simplification of Chinese Characters, it is against regulations to revive the use of traditional characters," said Yu.
"I want our children to learn more about them, it's that simple. I'm not saying we have to restore the use of traditional characters as a whole," Yu added.