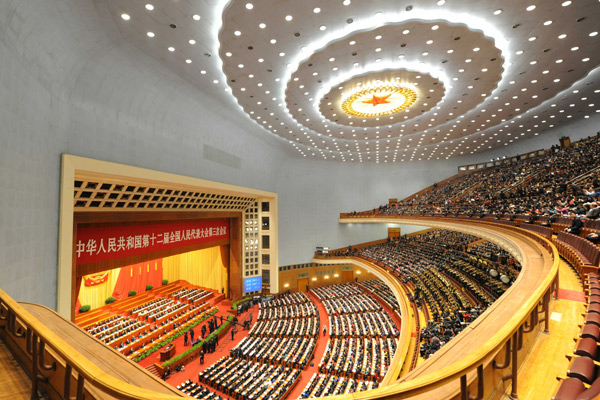 The 3rd session of 12th National People's Congress (NPC), China's national legislature, opens its annual session at the Great Hall of the People in Beijing, March 5, 2015. [Photo/Xinhua]
Highlights of government work report
Lower GDP growth target
China plans to lower the annual GDP growth target to around 7 percent from 7.5 percent, the slowest in 22 years.
New Normal
"In order to defuse problems and risks, avoid falling into the 'middle income trap', and achieve modernization, China must rely on development and development requires an appropriate growth rate," said Li.
"At the same time, China's economic development has entered a 'new normal'."
Monetary policies
China will continue to implement proactive fiscal policy and prudent monetary policy in 2015, while noting policy flexibility to sustain economic growth.
Fiscal reform
China will encourage qualified private investors to establish, in accordance with law, small and medium-sized banks and other financial institutions.
The nation will also keep the RMB exchange rate at an appropriate and balanced level and allow it to float more freely.
The Shenzhen-Hong Kong Stock Connect will be launched on a trial basis at an appropriate time.
The nation will deepen reform of railway investment and financing by making good use of railway development funds.
Fiscal reform will focus on increasing budget transparency.
Agricultural reform
China set the target to reduce the poor rural population by more than 10 million.
"Made in China 2025" strategy
China will develop the "Internet Plus" action plan to integrate the mobile Internet, cloud computing and big data with modern manufacturing.
"We will implement the 'Made in China 2025' strategy, seek innovation-driven development, apply smart technology, strengthen foundations, pursue green development and redouble our efforts to upgrade China from a manufacturer of quantity to one of quality."