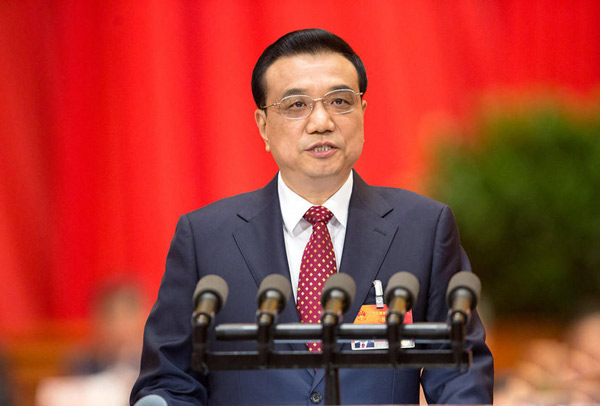 Chinese Premier Li Keqiang delivers a government work report on the opening day of the third session of the 12th National People's Congress in Beijing, March 5, 2015. [Photo/china.com.cn]
Premier Li Keqiang delivered his government work report when the 12th National People's Congress opens its annual session on Thursday.
Highlights of government work report
Lower GDP growth target
China plans to lower the annual GDP growth target to around 7 percent from 7.5 percent, the slowest in 22 years.
Proactive fiscal, prudent monetary policies
China will continue to implement proactive fiscal policy and prudent monetary policy in 2015, while noting policy flexibility to sustain economic growth.
Fiscal reform
China will encourage qualified private investors to establish, in accordance with law, small and medium-sized banks and other financial institutions.
The government will further liberalize interest rate and make steady progress to make the yuan freely convertible under the capital account including setting up pilot program to allow individual investors to directly invest in overseas markets.
The Shenzhen-Hong Kong Stock Connect will be launched on a trial basis at an appropriate time.
Anti-corrutpion drive
Li reiterated zero tolerance for corruption, vowing to build a law-based and service oriented governance of the country.
Agricultural reform
China set the target to reduce the poor rural population by more than 10 million.
"Made in China 2025" strategy
China will develop the "Internet Plus" action plan to integrate the mobile Internet, cloud computing and big data with modern manufacturing.
Entrepreneurship
Li highlighted popular entrepreneurship and innovation as new engines to spur growth while pledging to increase supplies of public goods and services.
Trade
China will move faster to strengthen infrastructure connectivity with neighboring countries and work on talks on free trade zones with the Gulf Cooperation Council and Israel.
Environmental protection
Government pledges to accelerate the promotion of cleaner and renewable sources of energy and tackle pollution by restricting the use of coal and cutting carbon emission.
The consumption of coal will have zero growth in key areas, while the intensity of carbon dioxide will be cut by at least 3.1 percent, said Premier Li.