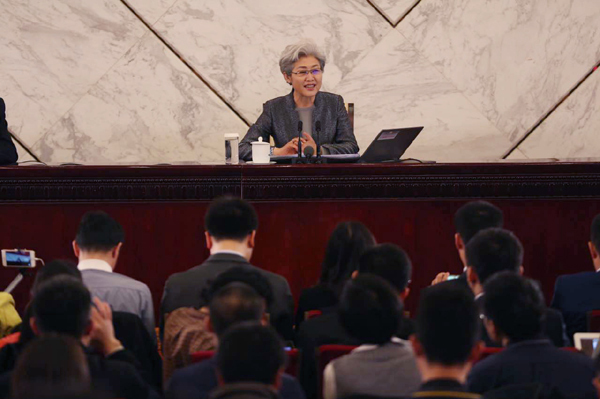 Fu Ying, spokeswoman of the third session of the 12th National People's Congress (NPC), meets journalists from home and abroad at a press conference in Beijing, March 4, 2015. [Photo by Wang Jing/China Daily]
China will raise its defense budget by around 10 percent this year, compared with last year's 12.2 percent, a spokeswoman for the annual session of the country's top legislature said Wednesday.
Speaking to reporters at a press conference a day ahead of the Third Session of the 12th National People's Congress (NPC), Fu Ying said the exact figure will be published in a budget report Thursday.
China's defense budget rose by 12.2 percent last year, riding on a multi-year run of double-digit increases.
A growth rate of about 10 percent could be the lowest in five years.
Fu said as a big country, China needs an army that can safeguard its national security and people.
"To tell the truth, there is still a gap between China's armed forces [and foreign counterparts] in terms of overall military equipment. We still need more time," said Fu, adding that capital support is needed for the modernization of China's national defense and its army.
"Lagging behind leaves one vulnerable to attacks. That is a lesson we have learned from history," she said, adding that China's defense policy is defensive in nature.
Fu also answered other questions from journalists from home and abroad. Here are the highlights.
Counterterrorism law
Fu said an anti-terrorism law requiring foreign companies in China to reveal security-related data will be in line with international practice and will not harm the legal interests of businesses.
The law is still under review, Fu said.
Fu noted that it is good to see US President Barack Obama paying attention to China's anti-terrorism legislation but there are misunderstandings.
Cross-border projects
The "One Road, One Belt" initiatives, the Silk Road Economic Belt and the 21st Century Maritime Silk Road, aim to bring China's development fruits to its neighboring countries and regions by constructing a new cooperation agreement in the area. But it requires financial support.
The Asian Infrastructure Investment Bank (AIIB) and Silk Road Fund are just designed for that. The future benefit of the initiatives can be seen from Kunming - Bangkok Road, which was jointly constructed by China, Laos, Thailand and the AIIB.
Food safety
Fu promised to use new Food Safety law to safeguard people's table. The new law was revised by adding 41 items to the original 104 law articles, which mainly focus on four areas: prioritized precaution, entire supervision, severe punishment, and social self-governance. Online shopping platform is another field that needs regulation.
Anti-domestic violence law
China's first law against domestic violence will be submitted for reading in August, 2015, Fu said. The law will take shape after about two or three readings.
The law demonstrates that China cares about venerable groups and takes zero-tolerance approach toward violence even within family members, Fu said. She also welcomed public suggestions about the law.
Taxation
Fu Ying said statutory taxation means that National People's Congress, the legislative organ, decides what, how, how much and at whom the tax should be levied.
"Our overall goal is to implement the statutory taxation principle in all aspects before 2020."
Anti-corruption drive
To combat corruption, we must treat the symptom and also the root. Only when we treat the symptom effectively, can we get at the root. The job of the standing committee of the NPC national committee is to treat the root by pushing forward the building of anti-corruption institution and thus creating an environment in which officials dare not breach the laws and regulations.
Besides amending our laws and regulations to give a heavier strike on corruption, we are also making efforts to build an international network to cooperate with other countries and regions to combat against corruption. No matter where the corrupt officials flee to, they have to face the law's punishment.
The reason why these corrupt officials dare to breach the law is that they are not in awe of the law, don't understand the law or don't bear the law in their minds.
President Xi Jinping recently emphasized that Party cadres must abide the principle that the constitution and laws are the highest and all people are equal before the law. All the Party members must study the law, understand the law, abide by the law and learn the use of the law.