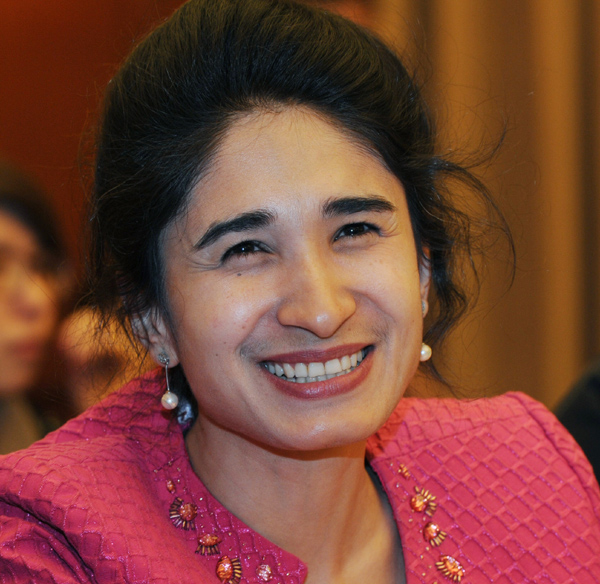 Rehangul Yimir attends this year's session. [Photo/China Daily]
Deputy Rehangul Yimir was watched by 700 million people when she appeared on a televised gala celebrating this year's Spring Festival, and many others enjoyed a recent TV drama based on her life story.
This sort of media exposure sometimes leaves her feeling uncomfortable.
However, she says she does not mind becoming a celebrity if she can inspire other young women in the Xinjiang Uygur autonomous region to realize they have the power to change their lives for the better, just as she did.
The 26-year-old was a migrant textile worker at a factory in East China's Zhejiang province when she came to Beijing two years ago to perform her duties for the first time as a deputy at the annual session of the 12th National People's Congress.
She is the youngest deputy in the Xinjiang delegation, and loves to smile and joke with others.
When this year's session ends, she will hurry back to Xinjiang to recruit 800 workers for a new textile factory in her hometown, Akto county.
A textile group in Zhejiang is investing in the project.
"I studied human resources management at a university for three months to prepare for the recruitment program, and I will be a member of the factory's management team when it opens in May," she said.
"I could never picture myself being a manager in a million years before I left my village to work in Zhejiang in 2007. It was a tough decision that has changed my life forever."
Initially, the textile group had concerns about the security situation in Xinjiang following a number of terrorist attacks.
Rehangul invited its bosses to Akto to see the county firsthand and told them about the government's preferential policies for the textile industry.
"I want the girls in my hometown, especially those from the villages, to have job opportunities on their doorstep so they don't need to travel far and can continue to receive support from their families."