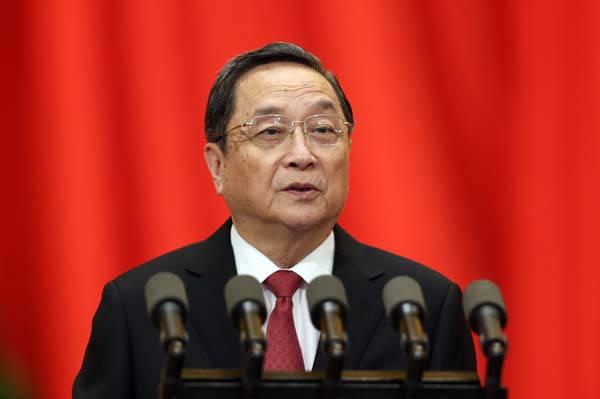 Yu Zhengsheng, chairman of the National Committee of the Chinese People's Political Consultative Conference (CPPCC), delivers a report on the work of the CPPCC National Committee's Standing Committee at the third session of the 12th CPPCC National Committee at the Great Hall of the People in Beijing, capital of China, March 3, 2015. [Photo/chinadaily.com.cn]
Although there are no major government appointments on this year's agenda, the meetings are set to be closely watched, as decisive reforms launched last year gave them extra heavy footing.
Defining the year 2015 as "a critical year for comprehensively deepening reforms, the opening year for advancing the rule of law in an all-round way and the final year for completing the 12th Five-year Plan," Yu said the CPPCC should focus their suggestions and proposals on reform and development.
Facing looming downward pressure on the world's second largest economy, Chinese leadership has pinned much hope on decisive reforms in hope of more healthy and effective growth which has slowed down to a stage of "new normal" -- the economy grew at its lowest pace in 24 years, expanding by 7.4 percent.
China saw a fiscal reform program designed to improve the taxation and local government financing systems within two years, the liberalization of the household registration system, and revisions to lending interest rates which gave commercial banks more freedom.
The government also abolished registered capital and administrative registration requirements for new businesses, and slashed red tape blamed for stifling private investment.
Yu noted that most of the CPPCC consultative activities and inspections, surveys and studies last year focused on deepening reform.
In particular, political advisors offered suggestions on key issues such as judicial independence, government transparency, air pollution prevention and control as well as structural optimization of economy.
In 2015, political advisors should deliberate and make suggestions on the formulation of China's 13th Five-year Plan, and strive to make farsighted, strategic and targeted suggestions and proposals, Yu said.
He said that the CPPCC will also conduct thorough investigations and studies on key topics, such as the Belt and Road initiatives and air pollution in the Beijing-Tianjin-Hebei region, to provide reference materials for the Party and the government in their decision making.
The 16-page report also drew multiple references to the rule of law.
The CPPCC will seek to actively contribute ideas and energy to comprehensively advance the law-based governance, by exercising democratic oversight over unfair or lax law enforcement, Yu said.
Seen as a major manifestation of socialist democracy, the CPPCC serves to conduct political consultation, exercise democratic supervision and participate in the discussion and the handling of state affairs.