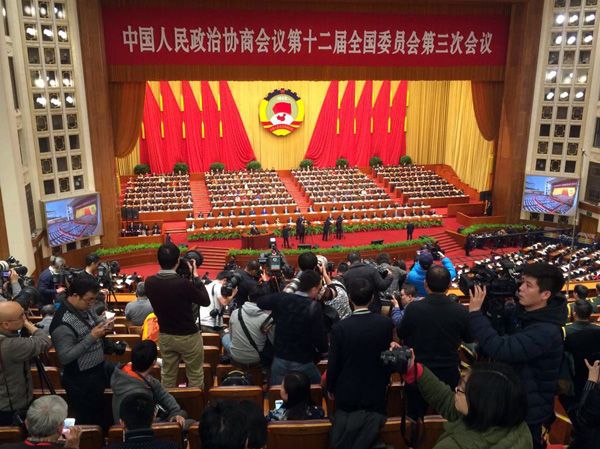 The third session of the 12th National Committee of the Chinese People's Political Consultative Conference (CPPCC), the national advisory body, opens at the Great Hall of the People in Beijing, capital of China, March 3, 2015. [Photo/chinadaily.com.cn]
BEIJING - Unfazed by downward pressure on economy, China's top political advisor Yu Zhengsheng pledged Tuesday further efforts to help advance reforms at the start of the most important two weeks on China's political calendar this year.
Presenting a work report of the Standing Committee of the Chinese People's Political Consultative Conference (CPPCC) National Committee at the opening meeting of its annual session, Yu said the CPPCC should put the "Four Comprehensives" at the center of its work.
He was referring to a political concept initiated by Chinese President Xi Jinping, which comprises comprehensively building a moderately prosperous society, deepening reform, advancing the rule of law and strictly governing the Communist Party of China.
Reform is a recurring keyword throughout Yu's report, in which he looked back on the national political advisory body's work last year and set new goals for 2015.
In the past year, national political advisors have rallied support and energy for comprehensively deepening reform, Yu said.
They should continue to stick to the reform agenda this year, he told fellow advisors who will spend the next few days reviewing a government work report, among others, that would comb through reform measures undertaken in 2014 and set the tone for this year's economic plan.
The political advisors' gathering runs almost in parallel with the annual session of the National People's Congress, the country's top legislature, which runs from March 5 to March 15 this year.
The two meetings, together dubbed the two sessions, make the most important annual political events in China, where political and economic developments are discussed and key policies adopted.