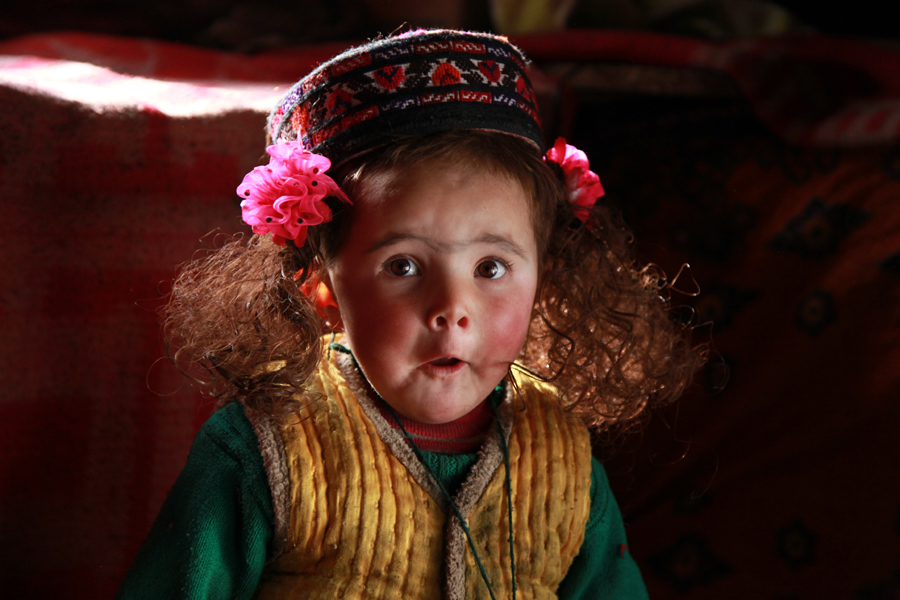 Gulaxiami makes a face. [Photo by Wang Lie/chinadaily.com.cn]
Wang Lie enjoys his dual identities, that of a People's Liberation Army soldier and that of a photographer.
The 37 year-old political instructor of a battalion is now doing his duty in Tashkurgan county, China's only Tajik autonomous county in Xinjiang's Kashgar prefecture. During his 18 years of service on the Pamir Plateau, the amateur photographer has been recording the life of the ethnic Tajik who reside in the sparsely populated mountainous areas.
In February 2007, Wang met Arimaner, a Tajik herdsman living in Khunjerab area which borders with Pakistan and has an average altitude of 4,800 meters. Arimaner was 16 at the time. The solider and the herdsman became friends.
In November, Wang re-visited Arimaner, who is now a father of two daughters. Wang took a photo of Arimaner's older kid, 4-year-old Gulaxiami, and posted it on social media. The picture soon earned hundreds of "likes" and some of Wang's friends called the girl a "Little Mona Lisa" due to her unfathomed expression.
China Daily Website brings you a series of Wang's photos that showcase the lives of the ethnic Tajik. This first series focuses on their family love. Part II: Outdoor life ; Part III: Kiss greeting