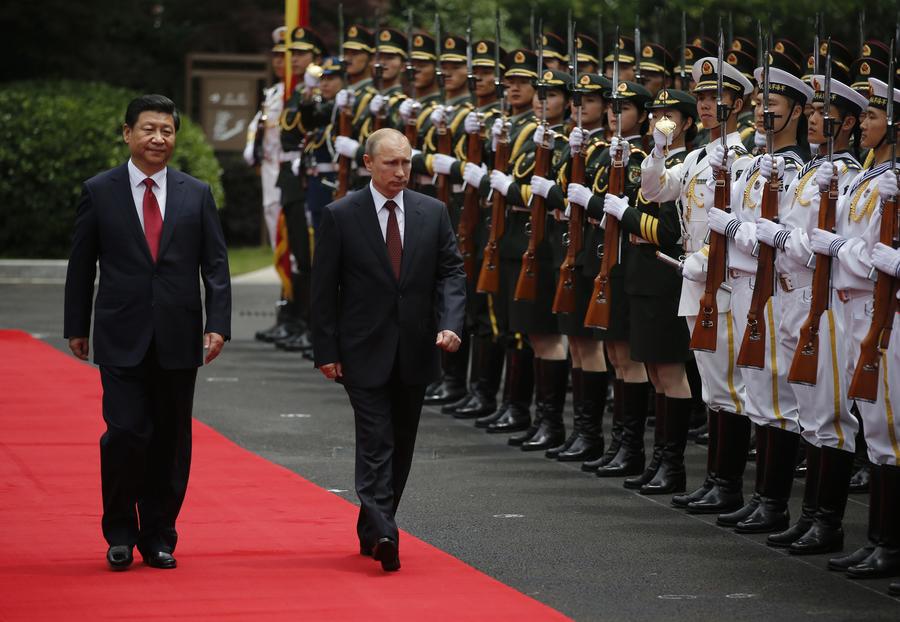 Russia's President Vladimir Putin (R) and China's President Xi Jinping review an honour guard contingent during a welcoming ceremony at the Xijiao State Guesthouse ahead of the fourth Conference on Interaction and Confidence Building Measures in Asia (CICA) summit, in Shanghai May 20, 2014. [Photo/Agencies]
SHANGHAI - Chinese President Xi Jinping held talks with visiting Russian President Vladimir Putin in Shanghai on Tuesday.
At the start of the talks, Xi extended a warm welcome to Putin, his first China visit since Xi took office.
Recalling their last meeting in Sochi during the Winter Olympics in February, Xi said the meeting marked a good start for relations this year.
Various cooperation committees and departments of both countries have actively implemented the results of the Sochi meeting, Xi said, adding the efforts had laid a solid foundation for his Shanghai meeting with Putin.
"Further facilitating the China-Russia all-round strategic partnership of cooperation based on common interests is a requirement for promoting international fairness and justice, maintaining world peace, and realizing prosperity in both countries," he said. Xi added that the partnership is also an "inevitable choice" for the development of a multi-polar world.
It is a historical responsibility for both sides to safeguard, develop and consolidate China-Russia relations, Xi said, warning the two countries against settling for existing results and urging them to constantly push for greater achievements in cooperation in various fields.
Applauding the all-dimensional and multi-tiered development of China-Russia cooperation, Xi urged efforts from both countries to raise their trade volume to 100 billion U.S. dollars by 2015.
Stressing on both quality and quantity in pushing forward practical cooperation, Xi called on China and Russia to promote cooperation on major projects in the fields of trade, the economy, investment, energy, high technology, aviation, aerospace, infrastructure construction and people's livelihood.
He also called on China and Russia to boost bilateral trade and economic exchanges as well as development and openness of neighboring regions through the construction of the Silk Road Economic Belt and a railway linking Asia and Europe.
He called on the two countries to strengthen cultural and people-to-people exchanges, especially youth exchanges.
Xi stressed that in the face of complicated and changeful regional and international situations, China and Russia should beef up security cooperation at bilateral level and within the Shanghai Cooperation Organization (SCO), to safeguard security and stability of the two countries and the region at large.
Chinese and Russian militaries should deepen cooperation in joint drilling, training and the fight against terrorism, Xi said.
He noted that 2015 marks the 70th anniversary of the world's anti-fascist war and China's victory in the anti-Japanese war. The Chinese and Russian presidents agreed to hold activities aimed at safeguarding the achievements of World War II and the post-war order.
Both being permanent members of the United Nations (UN) Security Council, China and Russia shoulder great responsibility for regional and world peace, security and stability, Xi said.
He called on the two countries to enhance cooperation within such frameworks as the UN, the G20, the SCO, the BRICS and the Conference on Interaction and Confidence Building Measures in Asia (CICA).
The two countries should firmly support the UN to play a core role in international affairs, safeguard the purposes and principles of the UN charter and the basic norms of international relations, promote political solutions to hotspot issues and push for a more just and rational international political and economic order, Xi said.
Putin said Russia-China relations have entered a new phase featuring all-round and fast development, hailing the achievements the two countries have made in such fields as inter-governmental cooperation, legislature, military, bilateral trade and two-way investment.
Russia is ready to actively push forward bilateral cooperation on projects in such fields as oil, gas, nuclear power, electric power, high-speed railway, wide-body aircraft and finance, Putin said.
The Russian president also urged the two countries to beef up military cooperation, expand cultural and people-to-people exchanges and enhance coordination on the international arena.
The two leaders also exchanged views on situations in Ukraine and on the Korean Peninsula. They witnessed the signing of a series of cooperative documents in various areas.
At a joint press conference after their meeting, Xi said he will invite Putin to China to attend the 22nd Asia-Pacific Economic Cooperation leaders' meeting scheduled in November.
Putin said he is looking forward to attending the meeting.
The Russian president arrived in Shanghai on Tuesday to start his state visit to China and attend the fourth summit of the CICA.