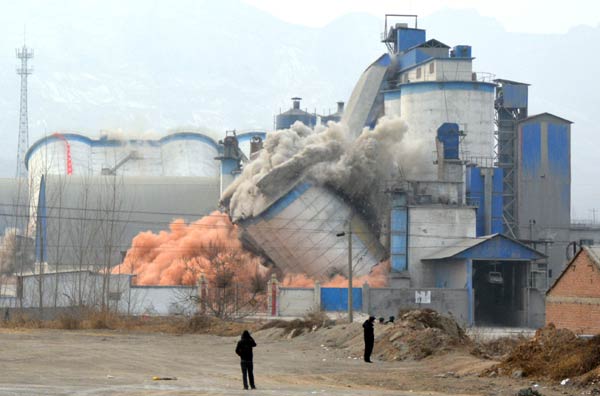 A cement plant in Shijiazhuang, Hebei province, is demolished amid the province's move to reduce its overcapacity and curb air pollution. China is paying more attention to the quality of its economic growth. Wang Ge/China Daily
Broad view | Ed Zhang & Li Yang
To sum up the government's performance in managing the economy last year, the country's top leadership noted on Monday that the year saw more difficulties than he had anticipated, but also yielded better results than what was once thought to be possible.
In 2013, economic growth rose 7.7 percent year-on-year, the lowest growth rate since 1999. Were it not for a number of mini-stimulus measures put forward by the State Council in the third quarter, the growth rate could have been lower.
Implicitly, worse problems may still appear this year. But if they are handled carefully, they may be overcome and may give way to progress.
To be sure, there is an obvious amount of caution that will remain as China journeys out of a stage of uncertainties, caused by both the breakneck speed of its growth rate in past years and the recent global financial crisis, to reach a more ideal stage of growth.
Such caution was apparent last year in the leadership's reluctance to roll out yet another massive credit stimulus, as it did following the outbreak of the 2008 global crisis when it doled out 4 trillion yuan ($653 billion) simply to ease pressure on major industries and jack up the quarterly GDP figures.
The same caution is built upon the awareness that there is no quick remedy or one-size-fits-all solution for this country's many industries and cities.
Most importantly, money is not the solution - especially when the local government debt, which totaled 20 trillion yuan at the end of 2013, may snowball if unregulated and cause a crushing threat to the whole economy. What the economy needs to do, and has been doing since last year, is to deleverage whenever it can to reduce risks and protect its financial industry.
Zhang Yugui, an economist at Shanghai International Studies University, calculated that the unpaid government bill, enterprise debt and various collateral trust bonds accounted for about 80 percent of China's gross domestic output last year.
"The real effective economic growth is not more than one-third of China's $9.4 trillion output last year," Zhang wrote for China Securities Journal. "Keeping the economy growing - statistically, at least - is the prerequisite to winning time to digest debt risks amid the exaggerated economic data. If the economic fundamentals start declining, the debt risks will spread soon."
Starting last week, major Chinese banks have followed one another in tightening their home loans also to avoid potential defaults.
By the same token, quantity is not the solution. Speed is not the solution.
The only solution is the reform. It is only through reform that good things such as responsible governance, a healthy environment, equal distribution of opportunities and fair competition will come to stay in China.
The leaders understand this. The central government gave up hundreds of its approval powers in the last year. By the end of January, nearly all provincial-level divisions had set up their reform leadership teams, following the central government's example.
Initiatives were launched in at least 31 fields out of the 60 fields of reform listed by the Third Plenum of the 18th Central Committee of the Communist Party of China in November.
The reason why Chinese leaders emphasize stability is because they need it to plant more seeds for a new kind of economy. Few key national economic indexes reflect big changes for 2014. Chinese economists expect GDP growth to remain at 7.5 percent year-on-year, the same as in 2013.
But stability doesn't mean no change or simply doing more of the same.
Investors will realize how much China can make a difference once, anticipated later this year, the tapering off of quantitative easing, or easy credit, takes full effect in the United States and begins to affect the state of all emerging economies in the world. Today's caution will prove to be tomorrow's speed.
The authors are writers at China Daily.
Contact the writer at edzhang@chinadaily.com.cn