Xi opens up on his hopes for football World Cup glory
By ( chinadaily.com.cn )
Updated: 2013-10-02
China's President Xi Jinping said he hopes the Chinese and Indonesian football teams can edge their way into the World Cup finals in the not-too-distant future.  
Xi explained during his Indonesia visit that one reason he loves the sport so much is that it emphasizes team spirit even though individuals obviously play an important role, and concluded, "The really amazing thing about football is that anything can happen out on the field, and the results are unpredictable."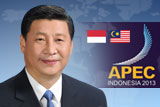 Xi makes a historic trip to the land where countless generations of Chinese have emigrated to, settled down, and melded into.
ASEAN members take lead from Indonesia being the largest of them all in many ways. China's relationship with it must get better.