Premier Li makes four-point proposal to upgrade ties with Thailand
Updated: 2013-10-12 00:51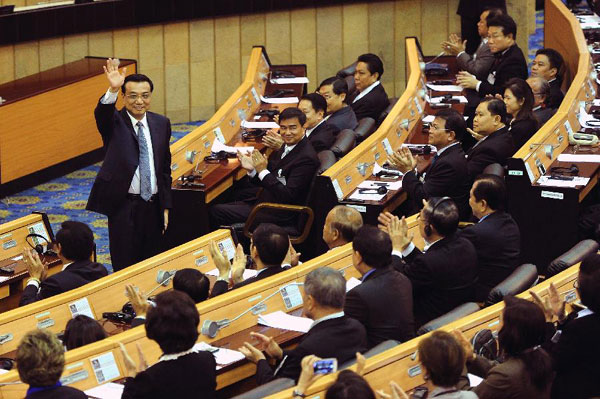 Premier Li Keqiang delivers a speech at the Thai parliament in Bangkok, Thailand, Oct 11, 2013. [Photo/Xinhua]
BANGKOK - Visiting Premier Li Keqiang Friday made a four-pronged proposal to lift China-Thailand relations to a higher stage in a speech delivered at the Thai parliament.
Stressing the "familial affection" between the two sides, Li urged both nations to jointly plan for the future, deepen pragmatic cooperation, speed up inter-connectivity construction and enhance people-to-people exchange.
Among the proposals, he called for keeping the frequent exchange of high-level visits between the two sides.
The two nations should not only implement the agreed-upon joint projects but also make long-term strategic overall planning, Li said.
To that end, he said the two sides will issue a joint press communique about the long-term vision of the development of bilateral ties to provide a roadmap for future cooperation.
The Chinese side is also willing to advance bilateral cooperation in transport, water conservancy, energy and education in accordance with Thailand's national development strategic planning, Li said.
On economy and trade ties, Li urged the two sides to implement the Joint Action Plan on China-Thailand Strategic Cooperation, and strive to meet the goal of increasing the two-way trade volume to $100 billion by 2015 at an earlier date.
Thailand abounds with agricultural products such as rice, the Chinese premier said, adding that his country will support Chinese enterprises to import 1 million tons of rice from Thailand in the next five years.
Li said rubber is an important commodity in China-Thailand trade, and Beijing would consider importing more rubber from Bangkok as well, adding that the Chinese side would build a special mechanism to boost bilateral cooperation on agricultural trade.
With frequent people-to-people exchanges and closer economic ties between the two countries, China will consider the establishment of RMB clearing banks in Thailand and encourage enterprises of the two countries to settle bilateral trade in their national currencies, according to him.
Li also proposed to strengthen practical cooperation on railway projects and enhance cultural exchanges with Thailand.
He said cooperation on railway projects could become a highlight in China-Thailand cooperation, as China has advanced capacities of building high-speed railways and rich management experience in this area.
It would facilitate logistics and boost economic development for Thailand to promote infrastructure construction such as railways, the Chinese premier said, adding that the two countries have huge potential in cooperation on railway construction.
During his stay in Thailand, Li and his Thai counterpart Yingluck Shinawatra will attend an exhibition on China's high-speed railways, hoping to conduct practical cooperation with Thailand at an earlier date.
Moreover, the two countries would vigorously carry out cooperation on electricity, power grid, and renewable energy, and push forward water conservancy construction projects, the Chinese premier said.
On cultural exchanges, he said China is ready to hold talks with Thailand over visa exemption for regular passport holders.
Thailand is the first country within the Association of Southeast Asian Nations to start such talks with China, and the talks will facilitate the people-to-people exchanges of the two countries, Li said.
The Chinese premier called on both sides to give full play to the Confucius Institute and facilitate the establishment of Thailand's cultural centers in China.
China would also help Thailand to improve its professional education by the joint running of schools and short-term training, Li said, adding that both sides would promote practical cooperation in such areas as technology, maritime affairs, and environmental protection.
In the speech, the Chinese premier hailed the achievements in bilateral ties since the two nations established diplomatic relations in 1975, including deepened political mutual trust, strengthened trade ties and closer people-to-people exchanges.
With two-way trade reaching $70 billion last year, China has become Thailand's largest export market and number one source country of foreign tourists. About 3 million people travel between the two countries last year.
For China, Thailand is a major trade partner in the ASEAN region and a major source country of agricultural imports, as well as the largest source country of rubber imports.
Among ASEAN nations, Thailand was the first to sign a joint declaration on cooperation plan for the 21st century with China, the first to advance strategic cooperation with China, and the first to realize zero tariff on vegetables and fruits with China.
Thailand is also the first ASEAN nation to host a Chinese cultural center and to hold regular defense consultations with China. It will soon have more consulates in China than any other country in the world.
He said in recent years the China-Thailand relationship has exceeded the bilateral level and played a guiding role in the development of China's relations with the 10-member Association of Southeast Asian Nations (ASEAN) as a whole.
China is ready to work with Thailand to strengthen coordination on regional and multilateral cooperation, and to keep close communication and collaboration on regional and global issues, Li said.
He also assured Thai lawmakers that China is capable of meeting this year's economic and social development goals, and of maintaining sustainable and healthy economic growth in the coming years, which would provide more opportunities for Thailand and other Southeast Asian nations.
Li said the China-Thailand cooperation has entered a fast track and the bilateral friendship has been ingrained in the hearts of the two peoples.
He believed that the two-way comprehensive and mutually-beneficial cooperation will attain greater achievements and the traditional amity between two nations will be cemented by new bond.
Li arrived here earlier in the day for an official visit to Thailand, the second leg of his maiden trip to Southeast Asia since he took office in March.
Before arriving in Bangkok, Li attended a series of meetings with East Asian leaders in Brunei and paid an official visit to the country.
After the Thailand trip, the Chinese premier will travel on to Vietnam.
Related
2013-10-11 21:55:53
2013-10-11 18:34:22
2013-10-11 15:30:05
2013-10-11 15:18:36
2013-10-11 15:11:22
2013-10-10 21:17:22
Oct 9-11: Attend East Asia Leaders' Meetings and Pay State Visit to Brunei

Oct 11-13: Pay State Visit to Thailand

Oct 13-15: Pay State Visit to Vietnam